Ways for Buyers To Deal With a Low Home Appraisal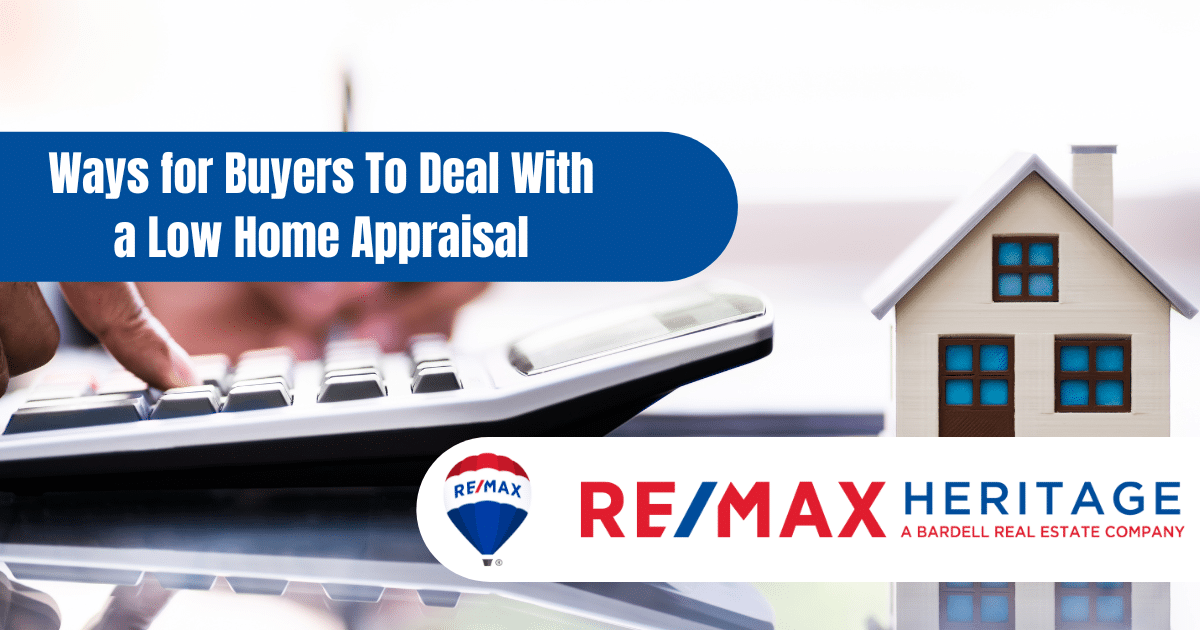 Ways for Buyers To Deal With a Low Home Appraisal
Roller-coaster rides don't have anything on the real estate market in terms of stomach-churning lows and adrenaline-pumping highs. But when you finally find the home of your dreams and are ready to sign on the dotted line, you're in the clear, right? No more drama?
Not if your home appraisal comes in significantly lower than the accepted offer. Even if you think your offer is fair, it doesn't matter to your mortgage lender. If you receive a low appraisal, chances are you won't be approved for the full amount of your loan. And if the seller's unwilling to lower the price, you'll have to make up the difference.
According to Fannie Mae, about 10% of home appraisals come in low. If it happens to you, it doesn't mean your dream is doomed. Here are the four options you have when you receive an appraisal below your offer price, plus insight into the chances for success in each case.
1. Appeal the appraisal
Appealing what you consider to be an unjust appraisal requires a concerted effort, but it is doable.
"In order to appeal an appraisal, you will have to request a copy of the appraisal report," says Carter Crowley, co-owner and acquisition manager at CB Home Solutions in Wisconsin. "This way, you can check the details and find concrete evidence of any miscalculation. It works all the time if discrepancies are found."
Errors and discrepancies are more common than you might think.
"There are sometimes errors to the processing, such as failing to include certain sources of income or incorrect comparables used in the comparison," says Joel Camino, CEO and founder of Indiana's Next Modular."In these cases, if you can provide evidence to support your claim, then it may be possible to have the appraisal revisited and a revised result given."
Chances of success: It's hit or miss. While errors aren't unheard of, Jonathan Faccone, managing member and founder of New Jersey's Halo Homebuyers, says that "the success rate [of appeals] is generally low, as appraisals are typically conducted by licensed professionals and are based on objective criteria."
2. Order a second appraisal
If you suspect the first appraisal was flawed, ordering a second one is a viable option. But it will cost you.
"To order a second appraisal, you need to keep in mind that you will bear the fee," says Zach Tetley, co-founder of Nexus Home Buyers in Knoxville, TN. "Once you ask for the second appraisal, the lender asks you to fill out the form for 'reconsideration of value.' The lender may or may not entertain your request."
Chances of success: Snagging a second appraisal can be time-consuming and costly, and it might not pay off.
"Lenders may also be cautious about accepting a second appraisal, as it may be seen as an attempt to cherry-pick a higher valuation," says Faccone.
3. Negotiate with the seller
Trying to come to a mutual agreement with the seller is probably the easiest and most obvious option on the table.
"Negotiating the sale price with a seller is easier than attempting to get a second appraisal," Melanie Hartman, owner of Maryland's Creo Home Buyers. "Any homeowner will have a hard time selling their house for more than it's worth. As long as the appraisal is accurate, most sellers are willing to adjust their selling price to get their house sold."
A renegotiation can also help "to bridge the gap between the appraised value and accepted offer," points out Boyd Rudy, team leader at Keller Williams Living in Brighton, MI.
Chances of success: If sellers are as eager to offload their home as you are to buy it, this might be a promising avenue.
"However, sellers are not obligated to renegotiate, and they may be unwilling to lower the price," Faccone says.
4. Walk away
Walking away from your dream home often feels like a divorce—it's emotional, and there are financial implications.
"Walking away from the purchase is a drastic option that should be considered carefully," Rudy says. "On the one hand, it can help to avoid a situation where the buyer is locked into a purchase that is significantly overpriced. On the other hand, it may mean forfeiting the time and money that you have invested in the purchase process."
If you have an appraisal contingency in your contract, that means you take yourself out of the deal and still get your earnest money deposit back. But without an appraisal contingency, walking away can mean losing any upfront costs like your inspection fee and earnest money.
In certain situations, you might have no other choice.
The seller is not obligated to lower the asking price if the house appraises low. So in a seller's market—where houses are in demand—the seller might not be amenable to a price negotiation. For many buyers, this means they're forced to drop the purchase because they can no longer afford the home. Their mortgage lender will loan them only enough for the appraised value, leaving it up to the buyers to make up the difference. And if they can't make up the difference, they'll have to say goodbye.
Ultimately, the decision will come down to your financial circumstances and whether you believe the appraisal is accurate, Rudy says.
Experts in Residential Real Estate in Orlando
If you are BUYING or SELLING real estate it's quiet often the single most important financial decision you make. For the last 30 years we have helped clients buying and selling property in Orlando and the surrounding areas. Put simply, this means the knowledge and expertise accumulated over this time ensures our clients get the best representation possible.
Our experienced agents will help and guide you through the entire process providing valuable support every step of the way.
Ready to make a Move?
Bardell Real Estate are the experts in helping you with your selling, buying or renting needs near Orlando, Florida. Make your Disney area experience a forever memorable one. Call us now to speak to a real estate agent.