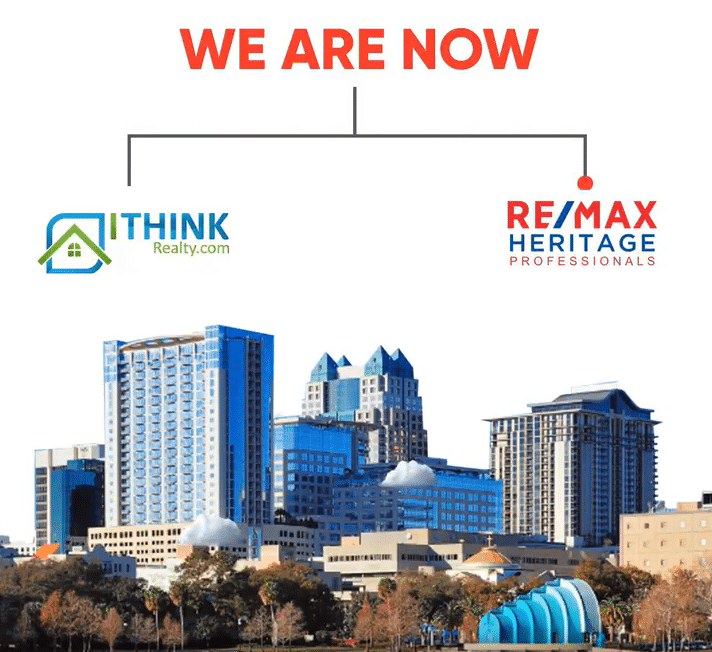 Winter Haven based i-Think Realty converts to RE/MAX Heritage
Winter Haven based i-Think Realty converts to RE/MAX Heritage
Winter Haven, March 1st, 2023— i-Think Realty Broker/Owner, Manny Quiros, is joining forces with Clermont based RE/MAX Heritage to bring the RE/MAX brand to Winter Haven. Operating under the RE/MAX Heritage brand – the location will remain the same, located at 264 W Central Avenue in downtown Winter Haven.
Quiros established the i-Think brokerage in 2014 . "As an independent brokerage we built a strong reputation for service and dedication to our clients. Looking to the future I want to ensure our clients continue receiving the same high level of service so it's essential that our Agents have access to the latest technology, strong brand awareness and support critical to their future success – RE/MAX delivers on all counts."
Steve Silcock, Broker /Owner of RE/MAX Heritage says, "Our business has been built on the traditions of honesty, integrity and respect – Manny and his team share those core values. RE/MAX Heritage will provide the technology, training and brokerage services key to supporting their continued expansion throughout central Florida and we are excited to welcome them to the RE/MAX Heritage family."
RE/MAX Heritage will continue to serve the Four Corners area of Polk, Lake, Orange and Osceola Counties and surrounding areas.
About RE/MAX Heritage
RE/MAX Heritage is affiliated with RE/MAX, LLC. RE/MAX was founded in 1973 in Denver, Colorado by Dave and Gail Liniger. It has grown to a global network of more than 120,000 Sales Associates in more than 100 countries. No one sells more real estate than RE/MAX.
Media Contact
Steve Silcock, Broker/Owner Manny Quiros, Broker/Owner RE/MAX Heritage RE/MAX Heritage Professionals (p) 863-424-2309 (e) steve.silcock@remax.net manny.quiros@remax.net
Ready to make a Move?
Bardell Real Estate are the experts in helping you with your selling, buying or renting needs near Orlando, Florida. Make your Disney area experience a forever memorable one. Call us now to speak to a real estate agent.