Renting vs. Homeownership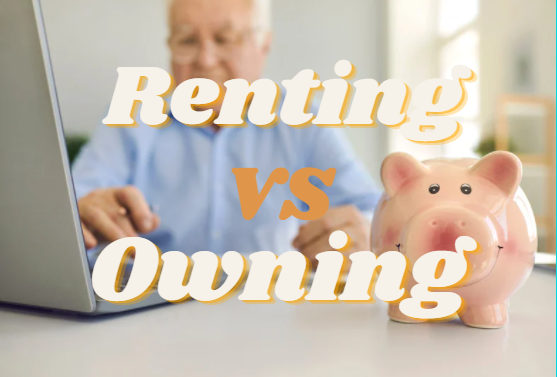 ​A common question that emerges when approaching retirement is, "Where do I want to live?" The next question is usually, "Should I rent or buy?"
Renting has several distinct advantages:
Flexibility: While you may feel you found your "forever" home, desires tend to change over time, and what you want today may not be what you want tomorrow. Renting provides the flexibility to change your living situation without significant cost or time.
Accessibility: At some point in retirement, climbing stairs, clearing snow, and maintaining a lawn will likely become a nuisance and something you may want to avoid.

Lower expenses: Homeownership comes with many one-time expenses and ongoing maintenance costs.

Financial: By selling your home and renting, you unlock a large amount of capital. This can be allocated to help pay for rent while investing a portion to earn a higher potential rate of return and keep up with cost-of-living adjustments.
Property Owners considering long term rental of their home should always look for an established property management company that really understands the retirement market. Community rules and regulations, Fair Housing, ADA compliance can make the renal landscape difficult to navigate so make sure to speak to one of our full time Property Managers before you make a decision
For our mature clients looking to enjoy Florida retirement but do not want to live in a retirement community we can also help. We have access to all homes listed for sale in Florida, not just the 55 plus communities. If you can't see what you are looking for in the retirement communities check out the amazing deals in the Investment Second Home Market or contact us and we would be pleased to undertake a search on your behalf – no fee, no obligation.
OWNERSHIP
As with renting, homeownership also has its advantages:
Tax benefits: Homeownership comes with several tax perks, mainly the ability to deduct mortgage interest and property taxes for those who itemize deductions.
Personalization: By owning a home, you can design and furnish the place to match your taste.
Stability: Owning your retirement home provides stability and eliminates dealing with a landlord, who could significantly increase rent or choose not to renew your lease.
Equity
: While renting is generally a way to save money, ownership builds home equity and can lead to potential capital appreciation.
Affordable housing in active 55 plus Communities is constantly in demand. We have been helping people buying and selling property in these deed restricted communities for over 30 years. Most retirement communities have strict rules and regulations regarding real estate. Who can purchase in the community, how long people of non retirement age can stay ……….. all of these things have to be considered to make sure you find the right home.
If you are seriously considering retiring to Florida our experienced Realtors can help you find an affordable property. Looking for Golf communities, waterfront properties, manufactured homes, villas, RV Homes and all with superb community facilities at a price to suit your budget. We work with all the new home developers and other local brokerages to find the perfect match and realize your Florida retirement dream
Ready to make a Move?
Bardell Real Estate are the experts in helping you with your selling, buying or renting needs near Orlando, Florida. Make your Disney area experience a forever memorable one. Call us now to speak to a real estate agent.