Orlando Real Estate Market is Hot
Orlando Real Estate Market is Hot – Looks like Orlando is going to be hot this spring — for home sales, that is.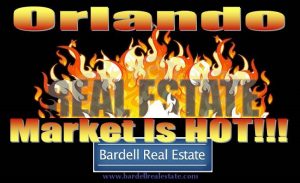 A new report from Ten-X, an online real estate marketplace, shows that Orlando is the sixth-hottest housing market in the U.S. this spring. The top five, in ranked order, include Seattle; Portland, Ore.; Nashville, Tenn.; Palm Beach County, Fla.; and Fort Lauderdale.
"We're continuing to see a return to fundamentals driving the housing market, as cities with above-average population growth and job creation are recovering much more rapidly," said Ten-X Executive Vice President Rick Sharga. "The solid tech sector has helped cities like Seattle and Portland maintain strong economic growth, which in turn has helped fuel the housing market, and the Florida housing market continues its post-recession recovery with South and Central Florida cities experiencing explosive growth."
Tampa also made the top 50, coming in at No. 11. Miami ranked No. 19 and Jacksonville No. 31.
Source: Orlando Biz Journal
Orlando Real Estate Market is Hot