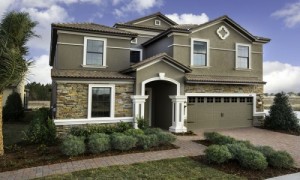 Florida new home sales has taken off this year, setting a record 6-year high!! There is no doubt that purchasing your vacation home in Florida should start with a new home sales search!
"Sales of new single-family homes soared 18 percent in August, as greater confidence in the recovery swept across the housing industry, despite news that homebuilding tumbled 14 percent and existing-home sales fell 1.8 percent in the same month.
New-home sales in August reached a seasonally adjusted annual rate of 504,000 units, the highest level since May 2008, according to data released Wednesday by the Commerce Department. It also marked the second consecutive month of new-home sales gains.
"This jump in sales activity is in line with our latest surveys, which indicate builders are seeing increased traffic and more serious buyers in the market for single-family homes," says Kevin Kelly, chairman of the National Association of Home Builders.
The boost in new-home sales is a good sign that recovery in the sector is moving "towards higher ground," adds David Crowe, NAHB's chief economist. "Historically, low mortgage rates, attractive home prices, and firming job and economic growth should keep the housing market moving forward in 2014."
Regionally, new-home sales posted the largest increase in the West, up 50 percent in August, and reaching the highest level sine January 2008. New-home sales jumped 29.2 percent in the Northeast, and the South saw a 7.8 percent increase in August — its highest level in 10 months. In the Midwest, sales were flat."
Source: National Association of Home Builders and "New Home Sales Race to 6-Year High in August," Reuters (Sept. 24, 2014)
© Copyright 2014 AOL Inc. All Rights Reserved
New home sales has sprouted through this Four Corners area. Click here to learn more about the new home communities near us!