Existing-Home Sales Fell 3.4% in May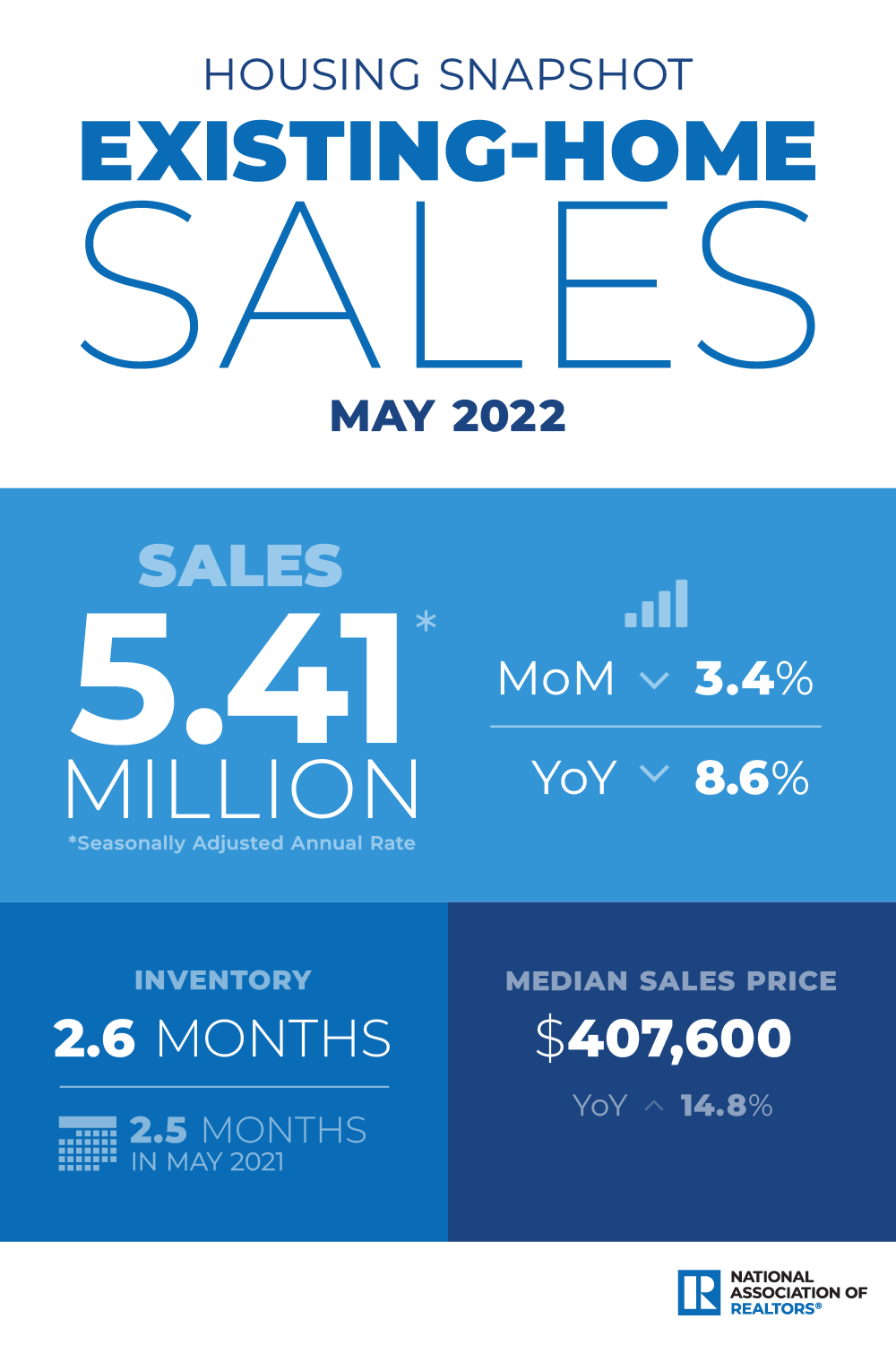 WASHINGTON (June 21, 2022) – Existing-home sales retreated for the fourth consecutive month in May, according to the National Association of Realtors®. Month-over-month sales declined in three out of four major U.S. regions, while year-over-year sales slipped in all four regions.
Total existing-home sales,1 https://www.nar.realtor/existing-home-sales, completed transactions that include single-family homes, townhomes, condominiums and co-ops, fell 3.4% from April to a seasonally adjusted annual rate of 5.41 million in May. Year-over-year, sales receded 8.6% (5.92 million in May 2021).
"Home sales have essentially returned to the levels seen in 2019 – prior to the pandemic – after two years of gangbuster performance," said NAR Chief Economist Lawrence Yun. "Also, the market movements of single-family and condominium sales are nearly equal, possibly implying that the preference towards suburban living over city life that had been present over the past two years is fading with a return to pre-pandemic conditions."
Total housing inventory2 registered at the end of May was 1,160,000 units, an increase of 12.6% from April and a 4.1% decline from the previous year (1.21 million). Unsold inventory sits at a 2.6-month supply at the current sales pace, up from 2.2 months in April and 2.5 months in May 2021.
"Further sales declines should be expected in the upcoming months given housing affordability challenges from the sharp rise in mortgage rates this year," Yun added. "Nonetheless, homes priced appropriately are selling quickly and inventory levels still need to rise substantially – almost doubling – to cool home price appreciation and provide more options for home buyers."
The median existing-home price5 for all housing types in May was $407,600, up 14.8% from May 2021 ($355,000), as prices increased in all regions. This marks 123 consecutive months of year-over-year increases, the longest-running streak on record.
Properties typically remained on the market for 16 days in May, down from 17 days in April and 17 days in May 2021. Eighty-eight percent of homes sold in May 2022 were on the market for less than a month.
First-time buyers were responsible for 27% of sales in May, down from 28% in April and down from 31% in May 2021. NAR's 2021 Profile of Home Buyers and Sellers – released in late 20214 – reported that the annual share of first-time buyers was 34%.
All-cash sales accounted for 25% of transactions in May, down from 26% in April and up from 23% recorded in May 2021.
Individual investors or second-home buyers, who make up many cash sales, purchased 16% of homes in May, down from 17% in April and 17% in May 2021.
Distressed sales5 – foreclosures and short sales – represented less than 1% of sales in May, essentially unchanged from April 2022 and May 2021.
According to Freddie Mac, the average commitment rate(link is external) for a 30-year, conventional, fixed-rate mortgage was 5.23% in May, up from 4.98% in April. The average commitment rate across all of 2021 was 2.96%.
Realtor.com®'s Market Trends Report(link is external) in May shows that the largest year-over-year median list price growth occurred in Miami (+45.9%), Nashville (+32.5%), and Orlando (+32.4%). Austin reported the highest growth in the share of homes that had their prices reduced compared to last year (+14.7 percentage points), followed by Las Vegas (+12.3 percentage points) and Phoenix (+11.6 percentage points).
Ready to make a Move?
Bardell Real Estate are the experts in helping you with your selling, buying or renting needs near Orlando, Florida. Make your Disney area experience a forever memorable one. Call us now to speak to a real estate agent.