ChampionsGate was besieged yesterday by literally hundreds of Florida Realtors as Lennar began a round of "open houses" at it's new flagship development in ChampionsGate.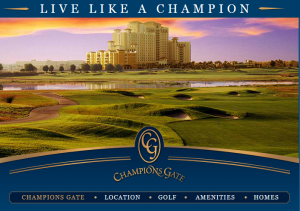 Registration for the Realtor Open Day was held outside the new purpose built sales office currently under construction in the center of ChampionsGate. Agents were shuttled back and forth to view the stunning model homes in this exciting new development.
The sheer number of agents waiting patiently in line to be ferried across to the first two new communities was a sight we have not seen for a long time.
This is without doubt the most exciting development we have seen in the Central Florida area for a number of years – and it's clear to see why. ChampionsGate has a convenient location at Junction 58 on I4 providing easy access to the theme parks and the rest of central Florida.  It boasts separate communities dedicated to the vacation market and the residential market offer stunning home designs to suit a range of budgets.
The Retreat at ChampionsGate will offer vacation / short term rental properties for sale starting from around $300,000 including your very own private, heated swiming pool. Owners and guests will also have access to a 30,0000 sq ft clubhouse and facilities that includes  a resort style pool, lazy river, restaurants, theatre,  and spa.
The Country Club at ChampionsGate will be a residential paradise that will attract permanent residents and second home owners who seek luxury country club style living at affordable prices. With homes starting at just $240,000 and top of the line facilities that includes a separate 20,000 sq ft club house, pool, tennis courts (including a stadium court) and of course an 18 hole championship community golf course designed by George Clifton.
For more details and pricing on property for sale in ChampionsGate visit www.championsgaterealestate.com