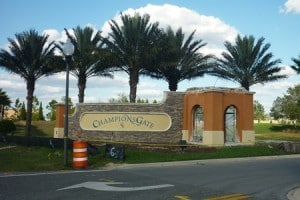 Work has begun on the new development at Champions Gate. The new Lennar Homes development will transform the area between I4 and Hwy 27 creating almost 2,000 new homes on a 34 acre site that borders Osceola and Polk Counties.
The former Stoneybrook South community will be completely rebranded as part of Champions Gate. Changes are already underway and the original entrance is being updated. Access to the new community will be available from Tri County Road and also through the entrance on HWY 27.
When completed the three planned developments will almost turn Champions Gate into a small city, Over 5,000 homes, elementary school, office space and hotel rooms. The area will also offer 54 holes of golf – the new 18 hole course originaly built as Stoneybrook South is already taking shape.
Construction of the model homes are under way and the first two will be completed before the end of January. Spacious floor plans and barrel tile roofs will immediately give the impression of liuxury and exclusivity in what is sure to become a premier destaination in the Orlando area.