What Sellers Should Look For in an Offer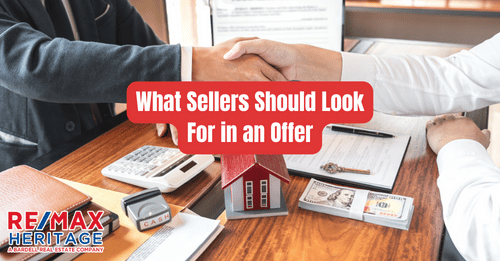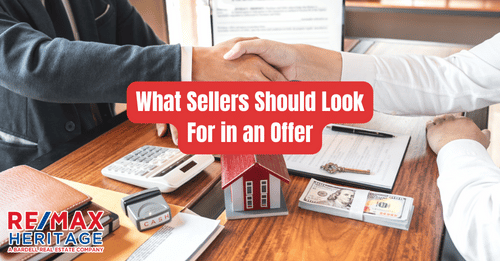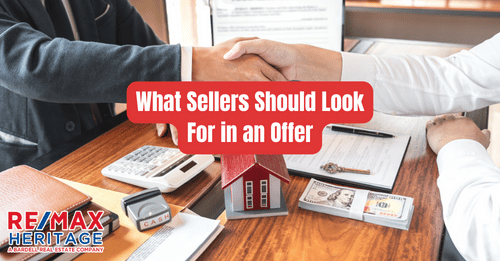 What Sellers Should Look For in an Offer
Congratulations! You're well on your way to getting as much as possible out of what is likely your largest asset. But when it comes to picking an offer, sometimes it's important to take a step back and recognize that your bottom line shouldn't be your only consideration.
In many instances, the terms a potential buyer includes in the offer also play an important part. They can underscore how many hurdles you'll have to clear to reach the closing table in a timely matter. So every seller should carefully review an offer—beyond the dollar amount—before settling on a buyer.
To help you navigate all this, we've outlined four important factors that home sellers should look for in an offer. Here's everything you need to know about choosing the best one.
1. Research your preferred financing method
As a seller, you probably have an offer amount in mind that you would like the buyer to meet or exceed. But remember, a buyer needs to prove that he can afford to make the purchase—no matter what numbers are thrown around in an offer.
"If the buyer intends to get a mortgage, there should always be a pre-approval letter included in an offer on their lender's letterhead," says Don Norris.
And if a potential buyer makes a cash offer, ask for proof of funds before accepting it. This proof will usually come in the form of a bank or investment account statement. Each should show that the buyer has the funds necessary to complete the transaction.
Need to sell your home in a hurry? Then you may prefer an all-cash offer. This type of offer usually involves less risk and a shorter escrow period as cash eliminates waiting for a buyer's full mortgage approval.
But seller beware: All-cash buyers have negotiation power. And they will generally want something in return for bringing a bag of money to the sale. For instance, they could offer you less than the asking price. So be sure to weigh the cons against the pros before accepting an all-cash offer over a buyer with a mortgage.
2. Look for a larger earnest money deposit
Next, you may want to pick an offer with a sizable earnest money deposit, also known as a good-faith deposit. This is a sum of money that a buyer entrusts to the seller's brokerage firm to prove that he is serious about purchasing the home.
"A deposit that's worth 1% to 2% of the sale price is normal," says Kseniya Korneva. "But the higher the deposit, the stronger the offer."
The buyer's earnest money deposit goes toward the down payment if he eventually closes on the home. On the other hand, if the buyer breaks the contract and walks away from buying the home, you can potentially keep the deposit as a consolation.
3. Consider fewer contingencies
In real estate, contingencies are benchmarks buyers set that need to be met for the transaction to continue moving forward. For example, many buyers will want to include an inspection contingency in the purchase contract. This means the buyer will need time to have your home inspected. And if any issues are found, a buyer might ask you to make repairs before he will close on the home.
With an appraisal contingency, a satisfactory appraisal of your property must be conducted. If the appraisal doesn't match the agreed-upon price of the home, you and the buyer will have to reach a new number before settlement.
The caveat here is that anytime a contingency can't be satisfied, the buyer has a chance to walk away from the purchase with his earnest money deposit in hand.
Obviously, from a seller's point of view, the fewer chances the buyer has to exit the transaction, the better. With that in mind, it's a good idea for you to select an offer that has the fewest contingencies from the start.
"Choosing an offer with minimal contingencies is just as important as the sale price," says Link Moser. "That's why cash offers are often accepted, even at lower sales prices. Sellers see a cash offer as removing a lot of the risk of the transaction falling apart due to a buyer's inability to get financing or the appraisal value coming in below the sale price."
4. Opt for an ideal closing timeline
Finally, consider your optimal timeline for heading to the settlement table. Moving out is a lot of work, especially if you've lived in the home you're selling for a while. To that end, you're going to want to ensure that you choose an offer with a closing date that suits your needs.
"Timing is everything," says
Lauren McKinney
. "While a quick closing is desirable to many sellers, some need more time to move. In that case, even an offer that has a lower sale price may be more desirable if the timing works better for them."
Experts in Residential Real Estate in Orlando
If you are buying or selling real estate it's quiet often the single most important financial decision you make. For the last 30 years we have helped clients buying and selling property in Orlando and the surrounding areas. Put simply, this means the knowledge and expertise accumulated over this time ensures our clients get the best representation possible.
Our experienced agents will help and guide you through the entire process providing valuable support every step of the way.
Ready to make a Move?
Bardell Real Estate are the experts in helping you with your selling, buying or renting needs near Orlando, Florida. Make your Disney area experience a forever memorable one. Call us now to speak to a real estate agent.