We are Looking for Inventory!!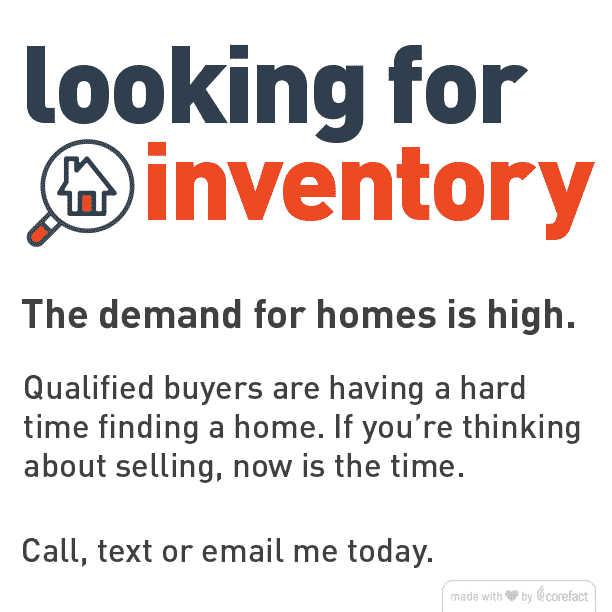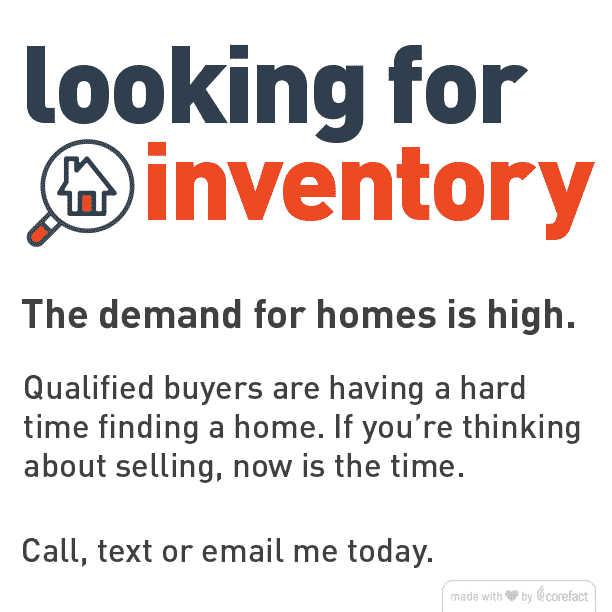 Now is the perfect time for homeowners to sell
As the post-COVID recovery starts, buyers are back looking for homes and entering the housing market.
The housing market is experiencing a mini-boom that will last, perhaps, until the end of 2020. As a real estate professional, you need to take advantage of this demand.
According to Stuart Miller, executive chairman of Lennar, "while many parts of the economy are still waiting to open and rebound, the housing market has proven to be resilient in the current environment".
Here are some of the reasons why now is the best time for you to invest in your marketing and show homeowners that this is the best time to sell their homes.
Inventory is Low and Home Price is Rising
The number of homes for sale is down 31% year over year. More buyers are competing for a limited supply of homes, prompting home prices to rise.
Prices for existing homes jumped 7.4% in April 2020 compared to a year earlier. All four major regions of the U.S. posted annual price gains.
According to Geogr Ratiu, Senior Economist of realtor.com "There are still buyers in the market, but given the very limited number of properties available, buyers are willing to pay more".
Helpful link: https://www.nar.realtor/research-and-statistics/housing-statistics
Increase of Online Home Search
The searches for homes for sale are back up and even surpassing pre-pandemic levels. That means home seekers are active online and eager to resume their activity on the real estate market.
Terms such as "house for sale" and "house with garden" are in high demand.
Overall, searches for the term "homes for sale" have risen in every metro tracked, compared to their 2020 lows at the onset of the coronavirus outbreak in the U.S.
Low Mortgage Rates
Mortgage rates have fallen to a new all-time low and homebuyers are rushing out to take advantage, especially first-time buyers and millennials.
Mortgages have averaged around 8% over the last 50 years. In early 2020 March, it dropped to a record 3.29%, the 30-year fixed-rate average dipped to below 3% in July 2020.
Rates this low were once unimaginable.
The fact is that right now, there are dedicated, focused, motivated buyers and sellers who need to move. If you're thinking about making a move, now is an inflection point in the market. Make the most of your equity and move on to your next dream home.
For agents:
At this time, you have to focus on motivated sellers who want to sell their homes.
The more listings you are able to generate, the more business you will have because listings tend to generate more business now and into the future. Once you sell a motivated seller's home, that seller will often come back to you again or refer other clients to you to sell their homes next. This is how you become a Top Agent in your area.