Understanding Interest Rate Buy Down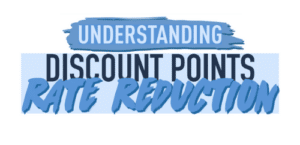 WHAT ARE MORTGAGE DISCOUNT POINTS?
Mortgage discount points are fees paid to a lender to reduce your interest rate. They allow a borrower to trade paying more money upfront in exchange for a lower interest rate. A borrower can pay more in closing costs for smaller monthly payments over the life of the loan. Having an understanding of this substantial savings opportunity over the life of the loan is key. When reviewing interest rates from mortgage lenders, you'll often see different numbers listed, including:
1. Mortgage interest rate
2. APR (Annual Percentage Rate)
3. Points
The mortgage interest rate is the percentage of the loan you are paying your lender to borrow the money. APR is the yearly income received by the lender over the life of the loan, reflected as a percentage of the loan amount (this includes other fees and costs charged in addition to the interest).
Points are fees associated with buying down your interest rate. Each discount point equals 1% of your loan amount and this discount point typically decreases your interest rate by about 0.25%. 
How much will you save when buying mortgage points?
Depending on your circumstance, buying mortgage points can save you significant money over the course of your loan. Here's an example:
Paying discount points to get a lower interest rate can be a great strategy. Lowering your rate even just 25 basis points (0.25%) could save you tens of thousands over the life of the loan.
Other things to know about mortgage points
The terms around buying points can vary greatly from lender to lender. Here are some important things to consider:
The lender and the marketplace determine your rate reduction, and it can change after the fixed-rate period for your mortgage ends. That's why it's important to make sure your break-even point occurs well before the fixed-rate expires. For Bank of America customers, however, if rates go up during the adjustable period, your rate will be lower based on the points you initially purchased.
Contact a tax professional to see whether buying mortgage points could affect your tax situation.
If you need to decide between making a 20 percent down payment and buying points, make sure you run the numbers. A lower down payment can mean also paying for private mortgage insurance (PMI), which could cancel out the benefit of buying points for a lower interest rate.
RE/MAX Heritage has served the Central Florida real estate market for over 30 years. 
If you are interested in buying, selling or renting a property in the Disney Orlando area of Central Florida please complete the form below to provide us with more information so that we can better serve you.
We look forward to hearing from you!
Ready to make a Move?
Bardell Real Estate are the experts in helping you with your selling, buying or renting needs near Orlando, Florida. Make your Disney area experience a forever memorable one. Call us now to speak to a real estate agent.