Signs the Home You're Buying Will Have Good Resale Value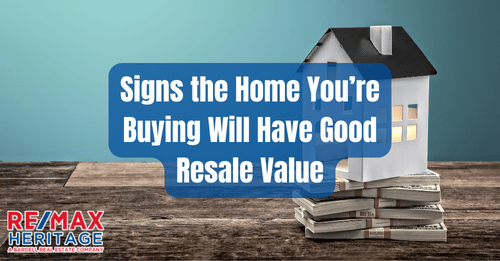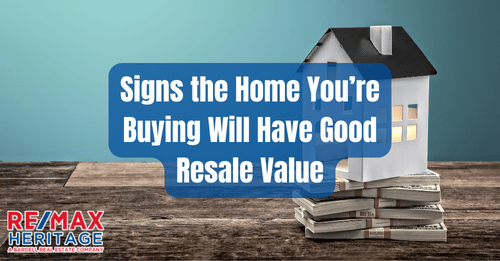 Signs the Home You're Buying Will Have Good Resale Value
While it might seem premature to think about selling a home before you even buy it, it's important to remember that a house is an investment. And in an ideal world, investments make money—not lose it.
That's why resale value should be an important consideration when house hunting. No, it shouldn't supersede your must-have requirements (if you demand 20 acres and lakefront access, prioritize that). But if you do your best to predict how the house you're buying—and the neighborhood it's in—will appeal to future buyers, then future-you will be a whole lot happier. And possibly richer.
But one caveat: Good resale value is never a promise.
In short: Resale value is anybody's guess if the economy tanks. But there are some indicators to watch for that could be the difference between barely squeaking by or coming out ahead. As you hit the house-hunting trail, look for these promising signs that suggest your investment will be a smart one.
1. Good resale value sign: the neighborhood's hopping…
Pay attention to your surroundings when house hunting. Is the neighborhood walkable? Or is a trip to the grocery store so onerous it requires snacks for the road? Meanwhile, are there restaurants nearby for those nights you simply just can't?
Even if there are development plans in the works, don't bank on that to prop up property values; construction can stall or be scrapped entirely. When calculating your home's future worth, focus on what exists now.
2. Good resale value sign: the street itself is quiet
Buying a home is a study in contrasts: You want a gorgeous kitchen—and good delivery options, too. You need five bedrooms—and a decent hotel around the corner, because no way is your mother-in-law staying with you. You want things to be hopping—but not in your backyard.
Not that there aren't buyers—possibly even you—who love living in the middle of the action. But before you buy the bungalow next to your favorite watering hole, consider that future buyers might not be so keen.
3. Good resale value sign: the home's systems are in good shape
Many people consider return on investment to be the sum of a simple calculation: Will the home sell for more than you paid?
But it's a little more complex than that. You have to factor in how much you'll spend on the home while living there—even if the market becomes red-hot. And if the home's vital components are falling apart, you'll be spending a lot.
Your inspector can give you a rundown of your future home's health, but keep a close eye on the roof, water heater, HVAC system, windows, and foundation. Pay attention to the plumbing and electrical, too. A problem with any one of these major systems can require a costly repair—and take a bite out of your payday.
"When these items are new or in good standing, that's a great sign," Kukwa says.
4. Good resale value sign: the schools are great
If you're child-free, this one might seem entirely irrelevant. But a word to the wise: If you think you might someday sell your home, you'll want to factor in the school district before you buy.
Just make sure to do your research and determine where the home sits in relation to the school district boundaries.
5. Good resale value sign: the light is inspiring
With good light, "there is always a good feeling—a feeling of embracing and belonging," she continues. "When [a home] is dark, no matter how nice and new it is, it doesn't feel inviting, it takes a much longer time to sell, and the price reflects the lack of light."
Whether you're shopping for a condo, apartment, or house, visit the property at different times of the day to see how the light affects the space.
6. Good resale value sign: the floor plan is family-friendly
Again? asks the child-free reader. Must all my housing decisions be dictated by families? No. But if you're hoping to sell that home for a profit down the road, you should keep kid-friendliness in mind.
And always pay attention to the number of bathrooms. You want "enough to avoid fights in the morning," Lindahl says.
7. Good resale value sign: the community is restrictive
Homeowners associations can be a pain in the butt—the irritating restrictions, the monotonous meetings, the monthly dues that you're not always sure you can account for.
But an HOA can actually be helpful, at least when it comes to resale value. That's because HOAs usually keep everyone in line, preventing your neighbors from letting weeds take over their lawn, painting their houses bright pink, or permanently parking an RV in the middle of your street—all things that could ding the value of your home.
Of course, purchasing an HOA-regulated home isn't for everyone. But if you're seriously concerned about the resale value of your new home, covenants and restrictions could keep you flush.
Buying a home? – choose a local agent.
Relocating, moving up or first time buyer if you are buying a home in Orlando we are here for you. We all live and work in the area. If you would like one of our experienced agents to contact you directly to help you through the buying process please Click Here or give us a call today at (863) 424-2309
Ready to make a Move?
Bardell Real Estate are the experts in helping you with your selling, buying or renting needs near Orlando, Florida. Make your Disney area experience a forever memorable one. Call us now to speak to a real estate agent.