Selling Your Home in the Fall: What you need to know…

Thinking of selling your home this Fall? Autumn brings cooler nights, colored leaves, and shorter days. Generally speaking, the amount of active houses on the market tends to drop in the fall. Nevertheless, with a seller's market at hand and a harvest moon hung in the sky, you can have great success selling your home in autumn. In fact, fewer homes on the market means your home will have even less competition and that could mean a quicker sale at a better price. 
While spring is known for it's large amount of home buyers, some of these buyers are just lookie-loos and never intend to buy. Fall and winter buyers tend to be more serious. Many fall buyers are looking because they just moved to the area, recently got married or divorced, or have undergone some other life change that means they MUST  buy a house. Additionally, The housing market is still hot, hot, hot and low inventory has many folks still searching for a home to call their own.
The belief that one needs to wait for spring to buy or sell a home is really an antiquated notion. Thanks to the Internet it's easier than ever for people to search for homes all year round. There is not really an off season in home-selling or buying anymore. There are many other factors that are more important to successfully selling a house than the season! Factors like listing price, condition, location, and the Realtor you work with will have more influence on your success than the season.
Fall provides home sellers with a great chance to display the "cozy" aspects of their homes. Take this opportunity to stage your home with seasonal charm. Warmer colors may help contrast the cooler weather. Decorating your home with tactful fall décor can add to the autumnal allure during this season. Be sure to highlight features that are particularly important in cooler weather like fireplaces, energy-efficient windows, new(er) furnace, garage,and heated floors.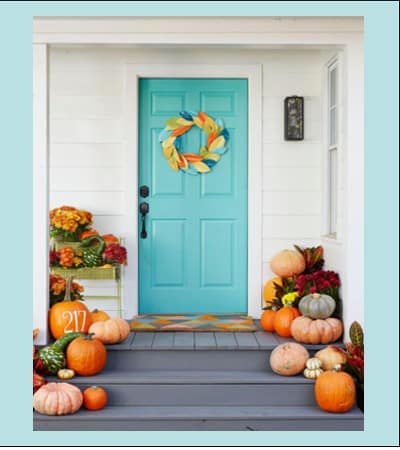 Pro tip: To create a warm and inviting fall aroma in your house, chop up 1 apple, take the peels of 2 oranges and 6 cinnamon sticks and put them into a pot of boiling water. Boil for 5 minutes before a showing and lower the burner to the lowest heat setting. 
Regardless of the season, it's important to perform some basic maintenance tasks before listing your home. In the fall, there are a few seasonally-specific tasks you'll want to complete. The change of season brings falling leaves and other debris. Keeping a raked yard will make a big difference in the appearance of your home. Not only will clearing seasonal debris from your yard add to your fall curb appeal, it will give buyers a better look at the condition of the yard and the home. It's a dirty task, but cleaning your gutters is a must. Pay special attention to removing leaves and debris in and around your outdoor A/C unit. Go ahead and check your heating unit as well. Drain the water heater to remove built up debris. If your house has a chimney, consider hiring a chimney sweep to clean it out. It doesn't cost much and it'll be once less item that'll show up on the home inspection.
Pro tip: In some cases, you can get proof of receipts to show buyers that some maintenance tasks are already take care of. This will give you more negotiating leverage. Keep a record of the tasks you've completed yourself. These kinds of records help buyers know that a house has been well-cared for.  
Even with less competition in the fall, it is still important to hire a knowledgeable Realtor to sell your house. An experienced Realtor will be up-to-date on the current (and ever-changing) market conditions and the right listing price for your house. He/she will help you identify if any improvements or upgrades could be beneficial before selling. He/she will also help you navigate the many steps of selling and help you with the art of negotiation. 
If you want or need to sell your house this fall, don't feel like you must wait until the spring market. Take advantage of the lower competition of fall, the more serious fall home buyers, and the great seller's market. Life doesn't wait for the spring market and neither should you!
So choose one of our experienced and professional agents to get your selling process started today!!
Source: ferrispropertygroup.com