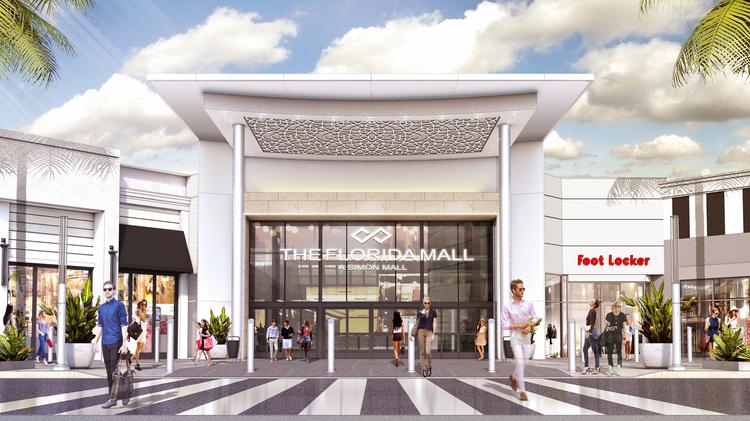 As The Florida Mall prepares to open its new Dining Pavilion next week, construction plans are in the works for a redevelopment of the former food court. Mall General Manager Brian Hanson talked with Orlando Business Journal about the latest with the Dining Pavilion, as well as what's next for the mall's continued revamp of existing space. The new Dining Pavilion — a redevelopment of the former Saks Fifth Avenue space — totals 105,000 square feet and is 100 percent leased, though Hanson said there are a few more tenants to be announced in the coming weeks.
The area will open on June 1, as will some of the tenants. The others will open throughout the rest of the summer, and will put the Simon Property Group Inc. (NYSE: SPG)-owned mall total at more than 200 shops and restaurants, he said.
The big push to relocate and expand the mall's food court had to do, in part, with retailer and restaurant demand for space as well as being able to accommodate more seating areas for shoppers, Hanson said.
"The existing food court was just too small and we didn't have the ability to accommodate not only the number of merchants but who we wanted," said Hanson. "This space is certainly much better in that regard. It's a very transformational project."
Meanwhile, discussions are now happening with retailers who are interested in setting up shop in the 20,000-square-foot revamp of the existing food court. The mall plans to tear down the existing entryway, which is near Foot Locker, and renovate it with new flooring, ceilings and lighting. Some tenants, like Foot Locker and some of the fashion retailers, will stay in place while new ones should be finalized by year's end and debut in next year's first half.
"There's quite a bit of work in there to convert from food to retail," Hanson said. "But we are having very good conversations with a number of retailers to take the balance of that space. We're just pinpointing the right mix and configurations."
Little Rock, Ark.-based VCC LLC was the project general contractor for the Dining Pavilion and will handle renovating the former food court as well.
Source: Bixjournals.com