Pugsgiving 2023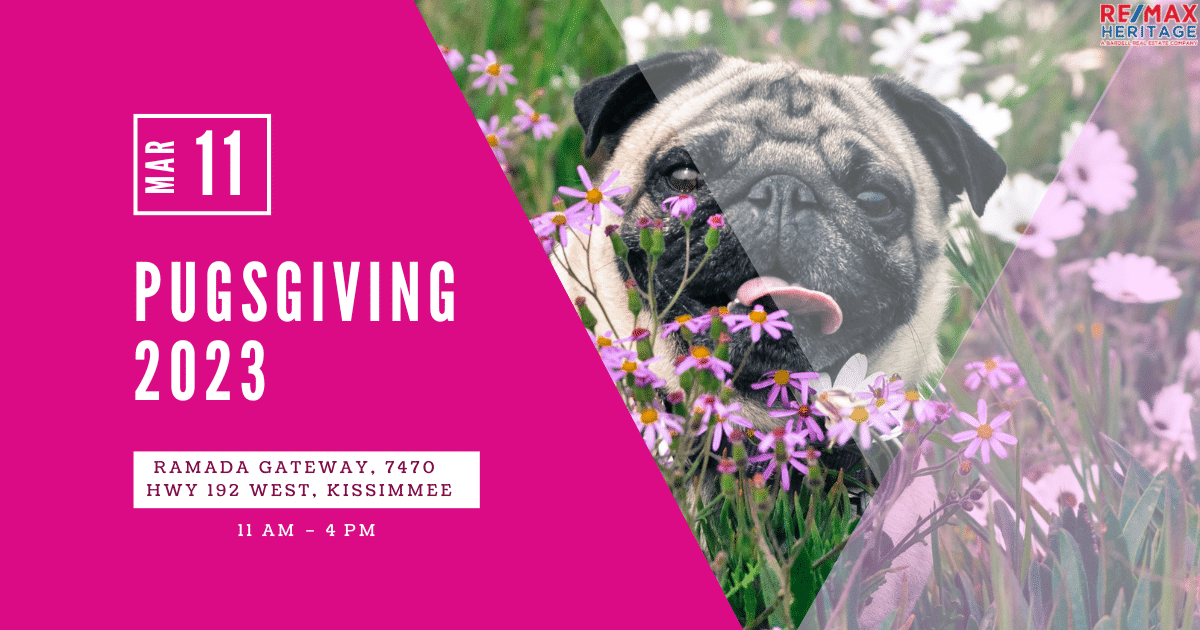 Pugsgiving 2023
Pug Rescue of Florida & Georgia will celebrate it's 20th anniversary in 2023 and we are going to kick off the fun with Pugsgiving on March 11, 2023!!  
LOCATION – Pugsgiving will again be held at the Ramada Gateway in Kissimmee, FL. 
You can reserve your hotel room now by contacting the hotel directly. 
EVENT TICKETS – Event tickets are on sale now on our Events Page!  Event tickets MUST be purchased in advance, NO tickets will be available at the door/the day of the event.  There are a limited number of tickets so please purchase your tickets early. You will check-in at the event Welcome Area and receive a wristband to gain entry to the event. Tickets are required for all attendees age 10 and older. Children under age 10 are free with a paying adult. People and pugs are invited per the policies below. 
ALL EVENT ATTENDEES MUST agree to and follow these Pugsgiving Policies: 
1) Pugs and pug mixes are invited and welcome to attend. They must be under your control at all times and you agree to follow any rules the hotel requires.
There will be a designated Pug Relief area behind the building that must be used for potty breaks. If an accident does happen in the event venue you must clean it up immediately.
All dogs MUST be on a fixed length leash at all times. NO FLEXI LEASHES are allowed! Dog strollers are allowed.
All dogs must be up-to-date on their vaccines.  No aggressive dogs allowed.
2) No selling or advertising dogs is allowed at this event. Violators will be removed immediately.
3) Attendees release Pug Rescue of Florida & Georgia and its Board of Directors and volunteers from any liability related to the event, incidents, or injuries.
Ready to make a Move?
Bardell Real Estate are the experts in helping you with your selling, buying or renting needs near Orlando, Florida. Make your Disney area experience a forever memorable one. Call us now to speak to a real estate agent.