Protecting your investment before and After Hurricane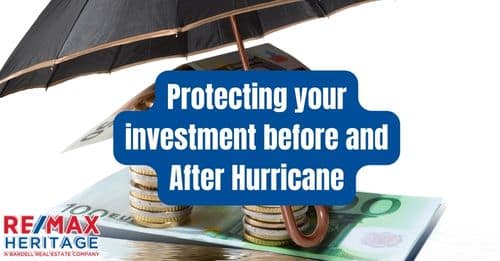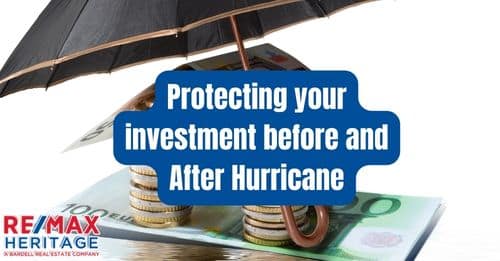 What Are the Steps Florida Homeowners Can Take to Prepare for a Hurricane?
     Hurricane winds produce some of the worst and most costly damage to Florida homes. If you own property in Florida, there are many things you can do and products you can purchase to protect your property in the wind-borne regions and inland. The following hurricane preparation tips can be used several months before a hurricane, a few weeks before a hurricane hits land, and a couple of days before the storm reaches the coast.
Months Before Hurricane Season Starts
Stay Informed



     When you own property in a region prone to natural disasters like tropical storms and hurricanes, you must keep abreast of developing and worsening weather conditions. Knowing in advance if a storm is brewing off the coast will go a long way to ensuring that you take the necessary steps to protect your property. Consider downloading an app from a Florida weather service and sign up for notifications for storm conditions and impending hurricanes.

Have Hurricane Impact Doors and Windows Installed



     Hurricane windows and hurricane doors are critical for protecting your home from wind and water damage in a hurricane. These incredibly durable impact doors and windows can also protect the home from intruders. With hurricane windows and doors, you'll save money on hurricane preparation for your house and your energy bills. A Florida home with hurricane windows and doors also offers an attractive feature for prospective buyers if you're looking to put the house on the market.
Three to Five Days Before A Hurricane Hits
Trim back the trees and shrubs to keep gutters clear of debris when the winds increase.
Bring every piece of loose furniture and home furnishings, including trash cans and decorations, inside.
Take steps to protect your home's electrical system and wiring from hurricane damage.
Cover your windows with 5/8 -inch thick plywood boards to prevent the glass from breaking if you do not have impact windows.
Keep your vehicle's gas tank full, and if you have a backup generator, keep it full too.
Outside AC units should be turned off and secured with metal straps to keep them from blowing away in a hurricane. Also, cover the unit with plywood or a tarp to protect it further.
     In a hurricane, standard doors and windows sustain a lot of damage when they aren't made of high-impact materials. High quality impact window and door products are made with the highest industry standards and are designed to withstand hurricane-force winds and rain. These durable doors can also withstand powerful impacts from any high force, including those from home intruders. 
What Other Benefits are There When You Instal Impact Windows?
     Hurricane impact windows do more than just protect you from storms. They can prevent intruders and save you money on your energy bills. 
During Aftermath
. Check Utilities
A problem with your utility systems creates a very dangerous situation. That makes it the top priority after a hurricane.
Typically, the authorities will check that your home is safe before you're allowed to return after a hurricane. By knowing the possible risks after a hurricane, you may be able to identify any potential problems before a major issue or injury occurs.
Electricity:

 

Before you enter a flooded or wet building, make sure a professional has disconnected the electrical meter. Even if the power is out for your area, there's still a risk of electrocution because a neighbor could be accidentally back-feeding the grid if they have their generator hooked up incorrectly.
Gas:

 

Gas systems need to be airtight, and it's possible to get a leak after a hurricane's wind, rain, and storm surge. This could be a big problem because even the smallest spark can cause an explosion. Don't try to troubleshoot a gas leak yourself, and immediately report any problems to your utility company. When checking your property, use a battery-powered flashlight, and turn it on outdoors because even the spark of turning on a flashlight could be enough to ignite a gas leak.
As you start your recovery process, you may want to use a generator to power your tools, lights, and essential equipment. Remember to adhere to safety standards to avoid carbon monoxide poisoning or electrocution.
2. Address Any Flooding In Your House
Flooding is a top concern after a hurricane. Not only can mold start to grow within one to two days, but the longer your property is wet, the more damage you could see. Walls and floors can warp or crack. Structural support beams could weaken or decay. And more of your belongings will become damaged as the moisture spreads throughout the house.
Start by assessing the problem and stopping the flow of any new water into your house. Turn off the main water line if necessary. Don't use the faucets or toilets until the authorities say the water and sewage lines are intact.
Next, take steps to get any standing water out of your house. A sump pump can do the majority of the work for you, pumping out up to 2,000 gallons per hour and switching to a battery backup when the power goes out.
While the speed with which you remove water is important to reducing damage, there are also circumstances when you'll need to remove water slowly. If your crawl space has had significant flooding, FEMA recommends removing about one-third of the water each day so that you maintain equal pressure between the inside of your crawl space and the saturated ground surrounding it.
If you have a flooded crawl space, schedule a free inspection with certified professionals and get a full diagnosis.
3. Inspect Your Structure
Before you were allowed to enter your home, it was probably inspected for safety. However, this initial inspection is not the comprehensive assessment you'll need to do as a homeowner.
Inspecting a structure is more than a short-term question of whether your home will collapse soon. You'll also need to take a long-term view to identify any problems so you can preserve your investment and protect your property.
Look for:
Weakened walls
Roof damage
Foundation damage
Chimney cracks
Sagging floors
Cracks in walls
Plumbing pipes that have been displaced
Windows and doors that have shifted alignment
The amount and type of damage your property could have is related to a number of factors. There's the force of the wind, its directional shear, major debris issues such as tree limbs, and your home's existing structural reinforcements.
Look for evidence as to how the storm could have damaged the structural support system. For example, a stuck closet door and a ceiling crack could indicate that the hurricane caused the frame to shift. If there is more structural load in one area of your house, you could have problems with the underlying foundation.
4. Prepare for Gross Stuff
There can be a surprising amount of damage after a hurricane, and cleaning up your property can mean you'll encounter some unpleasant surprises.
There could be unwanted wildlife in and around your home, and floodwaters can bring gators, snakes, or other creepy crawlies into your neighborhood. You could also find that sewage backed up through your plumbing into your home.
It's also important to remember that floodwaters can be quite toxic, carrying bacteria, pathogens, or chemicals. The CDC cautions about direct contact with floodwaters could cause skin rashes, GI illnesses, or wound infections.
Take precautions during cleanup and inspection. If sewage is involved, wear rubber boots, rubber gloves, and goggles. Disinfect anything that's had contact with floodwaters. Thoroughly wash hands and any skin that's touched floodwaters to stop bacterial spread.
Find out how Alpha Foundations can help you protect your home with a free inspection for foundation repair, crawl space moisture management, or drainage issues.
Ready to make a Move?
Bardell Real Estate are the experts in helping you with your selling, buying or renting needs near Orlando, Florida. Make your Disney area experience a forever memorable one. Call us now to speak to a real estate agent.