6 tips for pet owners selling their house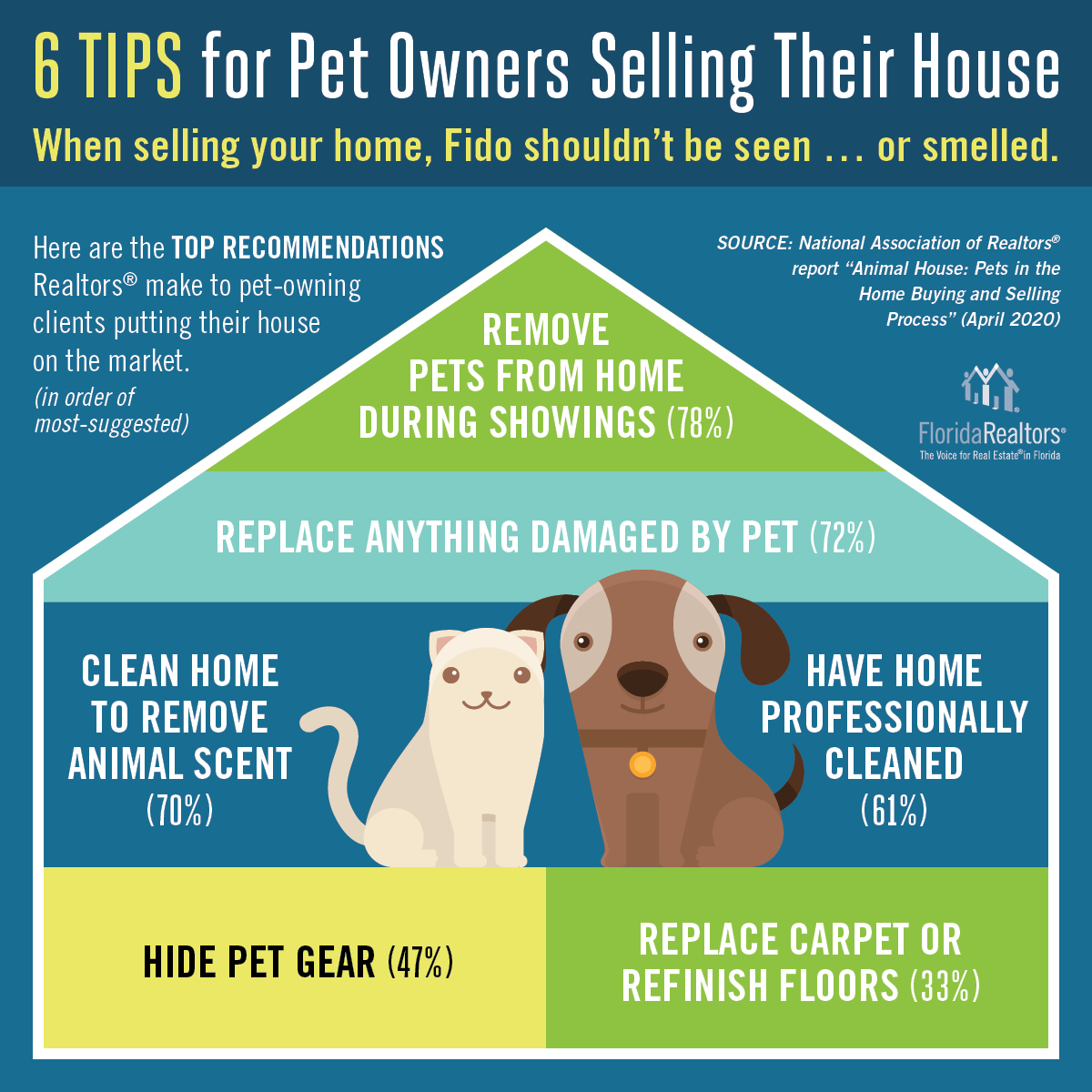 6 Tips for Pet Owners Selling Their House
Fido shouldnt be seen … or smelled when youre selling your home. Our top recommendations for pet-owning clients putting their home on the market (in order of most-suggested) are:
1. Take animal out of home for showings (78%)
Taking your pet off the property before a showing is best for you, your potential buyers, and especially your pets. Moving is as stressful for your pet as it is for you. Disrupting their daily routine, moving their belongings around, and having to deal with an influx of new stranger smells can create anxiety for your animal
2. Replace anything damaged by pet (72%).
When potential buyers walk through a home, they'll have a critical eye and may key in on even the smallest of blemishes
3. Cleaning the home to remove animal odors (70%)
4. Having the home professionally cleaned (61%)
If you have carpets, some professionals take it a step further by using a special UV light to detect pet accidents, professional urine removal treatment to get rid of stains and odors, and hypoallergenic cleaners to remove allergens.
5. Removal of pet objects (47%)
6. Replacing carpet or finishing floors (33%)
We love our animals and we make no apologies for the lifestyle accommodations we've made for our pets. As sellers, we do want to be mindful of our potential buyers. At the end of the day, we want top dollar and to see that our home goes a good family. Proper upkeep and maintenance throughout the life of your home go a long way. This applies to any wear and tear from our pets too.
Ready to make a Move?
Bardell Real Estate are the experts in helping you with your selling, buying or renting needs near Orlando, Florida. Make your Disney area experience a forever memorable one. Call us now to speak to a real estate agent.