Paws in the Park 2020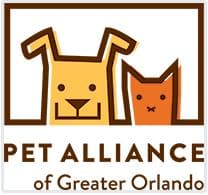 Paws in the Park 2020
---
This Saturday, February 8, 2020 for Paws in the Park where will parade (in style!) around Lake Eola in support of Pet Alliance of Greater Orlando, the region's oldest and largest animal welfare agency.
Registration Details
Sign up online, form a team and invite your friends and family to join you as you support Pet Alliance! You and your pack can start fundraising for our shelter pets today. 
Raise $15: receive a commemorative dog bandana
Raise $75: receive the 2020 Paws in the Park t-shirt 
Pick up your bandana and shirt on walk day and join us at 10 am as we proudly "parade" around Lake Eola in support of the Pet Alliance of Greater Orlando. 
New this year: PAWrade Costume Contest!
This year we have a third way for you to donate! Whether your pet arrives by float, pet carriage, or struts in like they own the joint — we want to see you in costume!
If you have a creative AND competitive spirit, then enter the juried PAWrade Costume Contest! *Entry is $30 for any of the following categories:
Superheroes

Favorite Food

Binge-Worthy TV Shows
Your support will help Pet Alliance save over 6,000 dogs and cats this year by providing shelter, care and love until they find their forever home.
Ready to make a Move?
Bardell Real Estate are the experts in helping you with your selling, buying or renting needs near Orlando, Florida. Make your Disney area experience a forever memorable one. Call us now to speak to a real estate agent.