Orlando Rentals Pay Off for Investors
Orlando Rentals Pay off for Investors – In many towns across the country, single-family rentals are proving to be solid investments.
A recent report from bond-ratings agency Morningstar notes that "Performance of all single-family rental transactions has met or outperformed Morningstar's original forecast."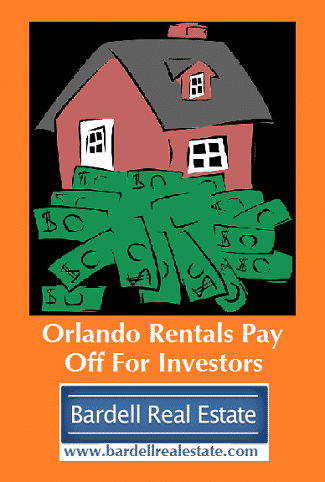 Families that might prefer to buy their own homes often still cannot secure mortgage loans and are renting single-family houses to live in instead. That is helping the owners of single-family rentals find new residents –and increase their rents.
Property managers of single-family Orlando Rentals raised their average rents by 3.5 percent in 2015 across the 504 counties that data firm RealtyTrac looked at nationwide. (RealtyTrac looked at three-bedroom units for the study, which are likely to represent rental houses). That rent increase is significantly higher compared to the rate of inflation over the same period.
Thanks to high demand, relatively few single-family rental houses remain vacant. The vacancy rate for rental home portfolios included in bond transactions rated by Morningstar currently ranges from 3.3 percent to 7.2 percent. Morningstar has rated bonds backed by the loans on 91,000 single-family rental properties in 23 separate, single-borrower bond issuances. In three-quarters of these 23 transactions, the percentage of vacant rental houses was less than 5.0 percent.
"Vacancy levels are well within expectations, and rents have exceeded originally underwritten rents," Morningstar researchers write.
Would-be homeowners fill rental houses
"The increase in demand seems to be driven in part by people who want to live in houses, but cannot get a mortgage, either because they do not have enough cash for a down payment or they have damaged credit," says Brian Grow, managing director of RMBS at Morningstar Credit Ratings.
These families often include school-age children. Many have strong preferences for specific school districts. The percentage of people aged 45 to 64 years old who own their own home declined in the third quarter of 2015, according to the U.S. Census Bureau.
"They are more likely to have formerly been in a home and like living in a home as opposed to an apartment," says Daren Blomquist, vice president for RealtyTrac. "But they are also more likely to not qualify to buy a home because of a foreclosure or short sale during the crisis."
Local realtors expect demand to stay high for single-family rentals, according to Morningstar, which interviews realtors in multiple markets on an annual basis to gauge their opinion of the rental and housing market conditions.
"All of the Realtors felt that the rental demand would continue to be strong in all regions," says Grow. "It looks like demand will continue to be strong in the near term."
Property managers have generally spent more on expenses to maintain their single-family rental properties than predicted in the original underwriting.
"Across the board, capital expenditures have been higher than Morningstar's original forecasts, and often more than double issuer-underwritten capital expenditures," the firm's report points out. However, the increased income from rising rents has made up for the rising cost of fixing up these properties.
Source: Floridarealtors.org
If you are interested learning more about Orlando Rentals and are considering purchasing an investment home or if you currently have a secondary home that you are considering renting out we can help.  We have a full service experienced property management team dedicated to our owners.  Contact us to get more information on our property management services.
Orlando Rentals Pay off for investors