New Single Family Short Term Rentals Near Champions Gate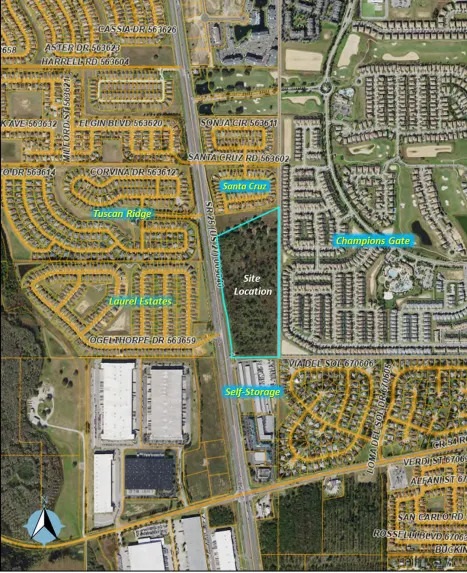 Good news for all Disney area vacation home buyers! On January 5th 2022 the Polk County Planning Commission unanimously approved 457 residential units on 32 acres near ChampionsGate. The project will be developed by Jupiter based Stellar Communities, whose six out of eight neighborhoods have already been sold out. The new project will be located "east of US Highway 27, west of the Osceola County Line, north of the Ronald Reagan Parkway, south of the Santa Cruz subdivision, north of Haines City." The development is said to consist of 300 apartment units on the northern side and 157 single-family units to the south: 103 detached units and 54 duplexes. The single-family portion of the development has been designated primarily for short-term rentals, defined as being made available for more than three times a year and for periods fewer than 30 days. Stellar representative confirmed that the units may also be used for long-term rentals. The single-family homes were referred to as "horizontal apartments" — essentially, the units are apartment-sized but have single-family amenities, like yards. The 300 apartment units will be spread among 10, three-story buildings and consist of one, two and three-bedroom units. Two of those buildings abut existing single-family development in the area, therefore a compromise was reached. The developer will need to construct a 15-foot landscape buffer that reaches 75% opacity within two years of being planted. Meeting this condition will allow keeping all building windows, as originally planned. In order to keep all planned balconies above the first floor, the apartment buildings need to be at least 30 feet from nearby single-family residential property lines. The current separation is 15 feet, but the developer could rearrange the location to achieve the desired separation, which the county originally intended to be 50 feet. Don't delay! Sign up with RE/MAX Heritage to receive timely updates on this highly desirable project and secure your vacation property as soon as the developer starts pre-selling.
Ready to make a Move?
Bardell Real Estate are the experts in helping you with your selling, buying or renting needs near Orlando, Florida. Make your Disney area experience a forever memorable one. Call us now to speak to a real estate agent.