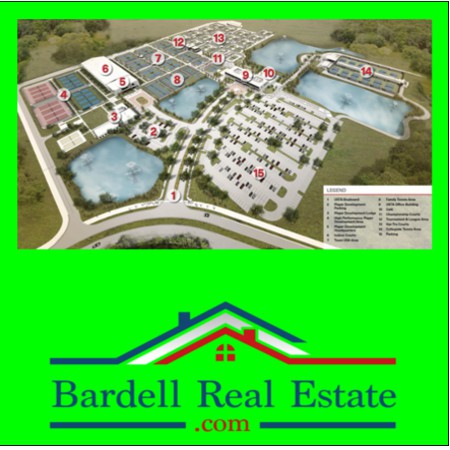 Looks like more development is on its way to Lake Nona to further grow a neighborhood and new sports district. New Lake Nona Offices, Homes, & More are Underway…
The city of Orlando on July 11 approved development plans in the southeast Orlando community for new homes, offices, showrooms, private athletic fields, mixed-use buildings, fitness centers and more. Lake Nona's developer, Tavistock Development Co. LLC, now can move forward with its plans that'll create new construction opportunities, further develop a high-end neighborhood and develop land near the future U.S. Tennis Association's 63-acre, $100 million campus that's opening by year-end.
Here's what's coming:
Laureate Park Phase 7: Tavistock plans to expand its Laureate Park neighborhood by 54.8 acres that are between Tavistock Lakes Boulevard and Nemours Parkway. The property has 207 lots and will be used for more single-family homes and townhomes.
Laureate Park Neighborhood Center Phase 1: Tavistock will develop a 6,300-square-foot, mixed-use building; a 2,300-square-foot, multi-purpose building; a 3,000-square-foot fitness center; two swimming pools and neighborhood green space on 10.77 acres north of Tavistock Lakes Boulevard and east of Sachs Avenue. Later phases of the Laureate Park Neighborhood Center call for 141 housing units, including townhomes, condos, single-family waterfront homes and boutique apartments.
Sports Village at Lake Nona: Tavistock will develop 31.1 acres west of Performance Drive and south of the USTA facility where it plans to build up its 300-acre Sports & Performance District. An 18,877-square-foot office building, two 50,000-square-foot buildings with office and showroom space, six athletic fields with a 23,750-square-foot building for ancillary uses, and 700 parking spaces are planned for the property.
Tavistock announced last April it planned to develop a 50,000-square-foot office building in its sports hub. Orlando City Soccer also announced earlier this year it's opening a new 23-acre training facility next to the USTA campus in 2017. It appears the new development plans line up with these prior announcements, but it is not confirmed if they are related.
Meanwhile, Tavistock also recently filed plans in preparation for a new hotel or resort in Lake Nona. Tavistock seeks to combine three parcels between Lake Nona Boulevard and the Lake Nona waterway into a single designation to streamline development plans for a future hotel or resort, sources previously told Orlando Business Journal. It's not clear if these plans are related to the sports district, but Tavistock leaders previously said a luxury resort and spa is needed near the sports district to accommodate traveling athletes and their families.
Source: Bizjournals.com