Mortgage Relief Options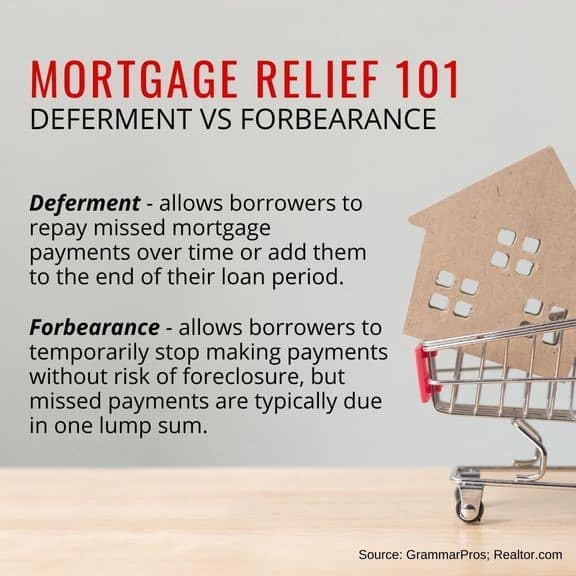 Mortgage Relief options
Financial challenges due to the coronavirus have many homeowners in search of mortgage relief. Mortgage deferment and mortgage forbearance are two options you may have read about recently. Both allow a borrower to skip monthly payments for a set period, but there can be differences.
Deferment-Allows borrowers to repay missed mortgage payments over time or add them to the end of their loan period
Forbearance- Allows borrowers to temporarily stop making payments without risk of foreclosure, but missed payments are typically due in one lump some 
Call your Lender
You may have to wait on the line for a while to speak to your mortgage servicer because there are a lot of people in need right now. Be prepared with the following information and questions you want to ask, and check their website before you call to see if there is a list provided of information you may need. Have your account number handy.
Questions to ask
What options are available to help you temporarily reduce or suspend my payments?
Are there forbearance, loan modification, or other options?
Can you waive late fees?
Ready to make a Move?
Bardell Real Estate are the experts in helping you with your selling, buying or renting needs near Orlando, Florida. Make your Disney area experience a forever memorable one. Call us now to speak to a real estate agent.