Loch Haven Park The Cultural Heart Of Orlando, Florida
---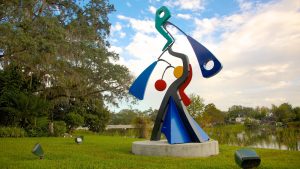 Loch Haven Park, Florida is the home to institutions such as the Orlando Museum of Art, Orlando Shakespeare Theater, Orlando Science Center, Orlando Repertory Theatre, along with the Mennello-Museum Of American Art.
Loch Haven Park happens to be one of those places well known for leafy and beautiful oak trees that surround this park along with soft and lush grass that feels like clouds beneath your toes. But what goes on indoors is as equally if not more appealing than nature and the stunning environment outside.
Loch Haven Park which is situated to the North of downtown Orlando spans over 45-acres and is positioned between 3 lakes. This park is also the home to a number of the city's most honorable and distinguished cultural institutions. Over and above the museums and theatres this park is also home to rehearsal studios dedicated to the Orlando Ballet, the Orlando Fire Museum and the Orlando Garden Club.
This mixture of theatres and top-rated museums means that this park is continuously abuzz with activities regardless of the time of day or night, even though technically the grounds are closed by sundown.
The art museums and science center open every day by mid-morning.
While many children are constantly flocking to the educational play-areas and interactive exhibits found in the science-center, the museums are usually the quieter destinations. However, it is very common to see children across this park, with school-field trips that often bring large-yellow buses to the venues.
The Rep is an area that specializes in a child-friendly theater, along with a variety of daytime performances.
While the Shakes, which is a nickname, also has on offer daytime shows dedicated to senior citizens along with school groups. The Shakespeare Theater that presents works from many other playwrights over and above the "Romeo and Juliet" scribe, present evening shows that are available just about every night of the week, while the evening performance in the Repertory Theater is on show on Saturday and Sunday evenings.
The art museums feature distinctive permanent collections, while the Mennello has on display a comprehensive exhibition of Earl Cunningham, a folk artist's colorful paintings. The OMA (Orlando Museum of Art), displays a vast array of artwork derived from the "ancient" Americas. Both these museums offer rotating exhibits which range from technology-based and cutting-edge onto the more classic oil-portraits.
These two museums also feature after-hours sponsored festivals along with special events.
One example of this is the Orlando Fringe Festival which takes over the entire park for two weeks in May, where over 100 performance-art acts, dance, make magic, and music, display their talents.
With this consistent flow of activities, you may be wondering if you will be able to find parking. The park offers three free lots that include one located at the Rep, one at the Mennello, and one situated between OMA and Shakes. The Science Center also has its own parking garage that comes with a small charge, while the Florida SunRail is a short 10-minute walk away
Here is the direction from Loch Haven Park to Bardell Real Estate
Check Out Park Lake Highland!