Lagoons coming soon to Central Florida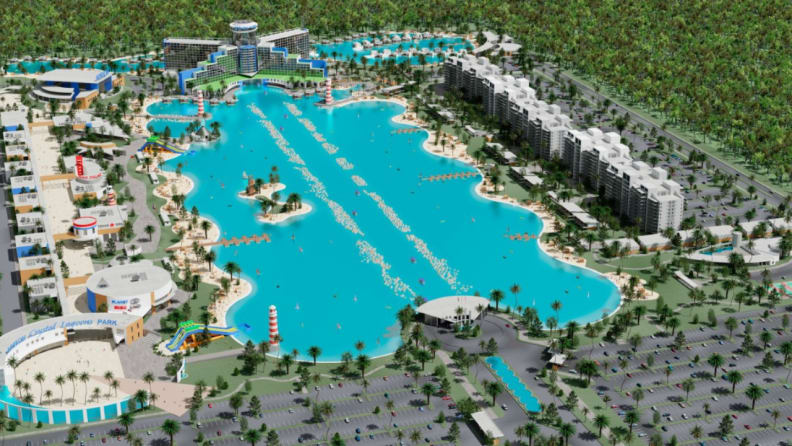 According to the development company, which is based out of Hollywood, Florida, work is already underway to clear land for the first Crystal Lagoon, which will be located at 17509 Bali Blvd., about eight miles west of Walt Disney World's Animal Kingdom. The parcel of land that the lagoon will sit is 57.6 acres, according to Adelon.
The Crystal Lagoon is only a part of this development plan.
"It's going to be a big development," said Jon McMillian, the corporate director of e-commerce and marketing for Adelon. "Now the plan is to have three hotels there, an entertainment district and a crystal lagoon."
McMillian also said the plans include retail space and dining locations. The plan is to have this first lagoon open in 2023, but the company said talks are already underway to form partnerships for entertainment at the Crystal Lagoon location.
"We've already had a lot of interest in food and from Orlando's big entertainment providers," McMillian said. "We are not at liberty to disclose who, because we're currently in negotiations, but there will be at least a regional, named entertainment on the premises."
Developing such a large parcel of land could have some major environmental impacts. The company said there are plans to mitigate those impacts, however, details on that were not readily available.
"I can tell you that a certain parcel of the land is set aside for wetlands as part of the program, the development," McMillian said. "So, maybe, even there's a possibility to have protected wetlands or nature walks as part of the end in development. The vision is still being developed, but I know certainly that that is part of it, that there will be protected wetlands."
While work is underway in Orange County, Adelon and Crystal Lagoons are also looking to build locations in Seminole, Osceola, Sumter and Lake Counties over the next 10 years, according to Iván Manzur, senior vice president of sales of Crystal Lagoons U.S. Corp.
While building near Disney may seem like an obvious choice, with its near-constant flow of tourists, Adelon believes the other locations will have plenty of customers as well.
"Florida has really seen an influx of people, especially from New York and California," McMillian said. "Florida is just booming in terms of population and the economy is resilient here as well. So, we believe in the future of Florida, that's why most of our investment dollars go to Florida."
Ref:https://www.clickorlando.com/news/local/2021/07/07/work-underway-to-bring-1st-of-5-planned-inland-lagoons-to-central-florida/
Ready to make a Move?
Bardell Real Estate are the experts in helping you with your selling, buying or renting needs near Orlando, Florida. Make your Disney area experience a forever memorable one. Call us now to speak to a real estate agent.