Investment and Vacation Home
Investment and Vacation Home – Vacation home sales cooled in 2015 but remained at the second highest amount in nearly a decade, and investment purchases increased for the first time in five years, according to an annual survey of residential home buyers released by the National Association of Realtors® (NAR).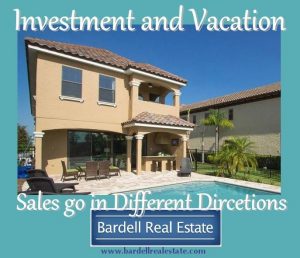 The median sales price of both investment and vacation home surged in 2015.
NAR's 2016 Investment and Vacation Home Buyers Survey, covering existing- and new-home transactions in 2015, found:
Vacation-home sales last year declined to an estimated 920,000, down 18.5 percent from their most recent peak level of 1.13 million in 2014.
Investment-home sales in 2015 jumped 7.0 percent to an estimated 1.09 million from 1.02 million in 2014.
Owner-occupied purchases jumped 15.9 percent in 2015 to 3.74 million from 3.23 million in 2014 – the highest level since 2007 (3.93 million).
Lawrence Yun, NAR chief economist, says vacation sales still came in at the second highest amount since 2006 (1.07 million).
"Baby boomers at or near retirement continue to propel the demand for second homes, although headwinds softened the overall volume of vacation sales last year," says Yun. "The expanding pool of buyers amidst a dwindling number of bargain-priced properties led to tighter supply and fewer sales, and caused the price of vacation homes to rise. Furthermore, the turbulence that hit the financial markets the second half of the year likely seized some would-be buyers' available cash."
The median sales price of both investment and vacation home soared in 2015. The median vacation home price was $192,000, up 28.0 percent from $150,000 in 2014. The median investment-home sales price was $143,500, up 15.3 percent from $124,500 a year ago.
According to Yun, many of the metro areas with the strongest price appreciation in 2015 were in the South – the most popular destination for vacation buyers – and particularly in several Florida markets. While increased buyer demand contributed to the run-up in prices, it also likely squeezed less affluent households looking to purchase vacation properties.
Vacation-home sales accounted for 16 percent of all transactions in 2015 – down from 2014 (21 percent), but still the second highest share since the survey was first conducted in 2003. The portion of investment sales remained unchanged from a year ago at 19 percent, and owner-occupied purchases increased to 65 percent (60 percent in 2014).
"Despite a smaller share of distressed properties coming onto the market, investment purchases reversed course in 2015 after declining for four straight years," says Yun. "Steadily increasing home prices and strong rental demand appear to be giving more individual investors assurance that purchasing real estate will diversify their portfolios and generate additional income if they decide to rent out the home."
This year's survey found that in addition to longer-term rentals, investors are most likely to attempt to rent their properties for less than 30 days. Among investors, 42 percent tried to rent their property in 2015 and plan to rent their property in 2016; 24 percent of vacation buyers tried to rent their property in 2015 and plan to rent their property this year.
Vacation buyers are more likely to use a property manager or social media to rent their property, while investors are more likely to use a traditional real estate agency.
The share of vacation buyers who paid in cash jumped to 38 percent from 30 percent in 2014, while cash purchases by investors decreased to 39 percent from 41 percent a year earlier. Of buyers who financed their purchase with a mortgage, over half (52 percent) of vacation buyers and 44 percent of investors financed less than 70 percent of the purchase price.
The overall trend of fewer distressed properties (short sale or foreclosure) on the market resulted in vacation buyers and investors purchasing less of them in 2015. Thirty-six percent of vacation buyers (45 percent in 2014) and 39 percent of investors (44 percent in 2014) purchased a distressed property a year ago.
Vacation-home purchase characteristics
Vacation-home buyers in 2015 had a higher median household income ($103,700) than those in 2014 ($94,380) and purchased a property that was a median distance of 200 miles away from their primary residence (unchanged from a year ago). Buyers plan to own their property for a median of 7 years, an increase from 6 years in 2014.
With more vacation buyers purchasing single-family homes (58 percent) compared to a year ago (54 percent), the share of those buying a condo (25 percent) or a townhouse or row house (13 percent) decreased. As to location, 44 percent of vacation buyers purchased in a beach area, 19 percent in the mountains or lakefront, and 16 percent in the country.
Nearly half of all vacation homes bought last year were in the South (47 percent; 41 percent in 2014), 25 percent were in the West (unchanged year-to-year), 15 percent in the Northeast (unchanged) and 13 percent in the Midwest (14 percent in 2014).
Over one-third of vacation buyers plan to use their property for vacations or as a family retreat (37 percent), 16 percent bought for future retirement plans and only 7 percent purchased to generate income through renting the property – a decrease from 11 percent in 2014.
Investment-home purchase characteristics
The typical investment-home buyer in 2015 had a median household income of $95,800 ($87,680 in 2014) and bought a detached single-family home (62 percent) that was a median distance of 22 miles from their primary residence (24 miles in 2014).
Investment buyers last year purchased property for a variety of reasons, with an increasing share from 2014 citing rental income as the primary reason (42 percent; 37 percent in 2014), followed by low prices and the buyer found a good deal (16 percent), and for potential price appreciation (14 percent).
Investment purchases in urban areas increased to 29 percent (26 percent in 2014). Purchased properties from investment buyers were more likely to be in the South (37 percent) and in a suburban area (41 percent).
Perhaps encouraged by rising housing demand and home prices, over 80 percent of both vacation buyers and investment buyers believe that now is a good time to purchase real estate.
NAR's 2016 Investment and Vacation Home Home Buyers Survey, conducted in March 2016, surveyed a sample of households that had purchased any type of residential real estate during 2015. The survey sample was drawn from a representative panel of U.S. adults monitored and maintained by an established survey research firm. A total of 2,053 qualified adults responded to the survey. Respondents were sampled to meet age and income quotas representative of all homebuyers drawn from the NAR 2015 Profile of Investment and Vacation Home Buyers and Sellers.
Investment and Vacation Home