How to Sell a Mobile Home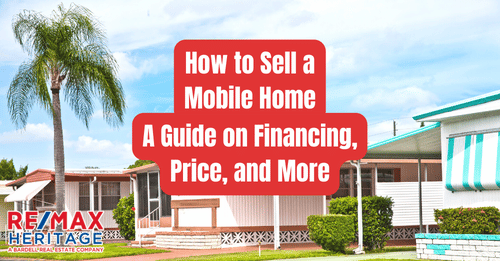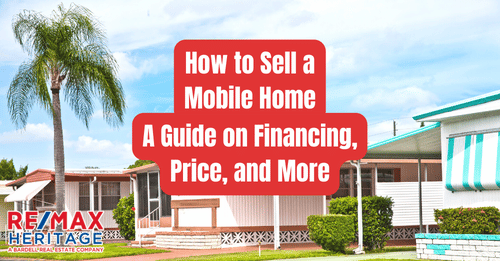 How to Sell a Mobile Home: A Guide on Financing, Price, and More
For starters, you should know that these days, they're called manufactured homes (but we'll use both terms interchangeably since many people are more familiar with the original moniker). And while you might assume selling this type of home is just like selling a traditional home, it isn't—and you'll need to adjust your approach accordingly. Here's how to sell a manufactured/mobile home, and how it differs from your usual real estate deal.
What is chattel?
If you own the land under your manufactured home, selling both won't be much different from selling a traditional home. However, if you don't own the land your home is on and you're selling just your mobile home, this changes the game in a big way.
"If it is properly secured to land and being sold with the land, it would be considered real estate or real property," explains Chandler Crouch. "If the mobile home is not being sold with the land, it is considered 'personal property,' or chattel."
About half of the people who live in manufactured homes own the land their homes are on, so it's very common to sell a manufactured home in what's called a "lot lease" situation—where the home is on land leased from someone else, usually in a park or community. If so, keep in mind that the administration of the park will have some veto power over whom you sell your home to, so you need to get the administration involved, too.
How to finance a mobile home
The financing options for buyers of lot lease manufactured homes are also different from those for traditional real estate. Here are four kinds of buyer financing you'll want to consider.
FHA loan: It's possible to get a traditional

 

mortgage

 

on a lot lease manufactured home, but there are a limited number of lenders who will do it. The FHA will insure these loans, but it has very

 

strict requirements

 

for which properties it will finance. It will also require that the home pass an inspection, and that the buyer sign at least a three-year lease with your park.
Chattel loan: A chattel loan is like an auto loan, but specifically for property such as manufactured homes. There are lenders that

 

specialize

 

in this kind of financing—they don't have nearly as many requirements as an FHA loan, but they do generally require an inspection. Their rates will not be as competitive as a traditional lender's, however.
Owner financing: If your buyer has the cash for a down payment but not the credit score (or willingness) to take out a loan, you can finance the purchase. The way it works is the buyer gives you a down payment, and you agree on repayment terms for the rest of the loan. The title is transferred with the down payment, but you put a lien on the property until it's paid off. You'll need a lawyer to help you put this kind of agreement together, and you'll want to research your buyer thoroughly to ensure he or she is a good bet.
Cash: A cash buyer is, obviously, the easiest—and entirely possible given the price of mobile homes. If your home is not in fantastic condition or you owe a lot on the home, a cash buyer might be your best option. The one downside is cash buyers usually have their pick of homes, so you might have to go down on the price to get the deal done.
How to price a mobile home
Selling any home is about finding the right price, one that will help you find a buyer quickly—and avoid languishing on the market for weeks or months—and one that (hopefully) makes you a profit. With a mobile home, you'll need to consider two separate factors: the value of the land (if you own it), and the value of the mobile home. Typically, the value of the land will go up over time, while the value of the mobile home goes down.
"Mobile homes depreciate like cars; however land appreciates," says Crouch. This National Appraisal Guide is a great resource for determining the value of a manufactured home. You can also pay to have it professionally appraised. It might cost a few hundred dollars, but the appraiser can help determine the value of the home as it's currently situated.
How to list a mobile home
If you're using a real estate agent, you should find one who specializes in selling manufactured homes, because it's a different certification than a traditional agent. This professional will list your property on the multiple listing service, which feeds into nationwide sites such as realtor.com, which will spread the word to buyers far and wide.
However, if you decide to sell the home yourself without an agent, you'll need to do a lot of legwork—starting with advertising to make sure people know your home's for sale. Talk to your park owner, who might have ideas, and wherever you list, explain what kinds of financing you are able to accept, as well as the price, location, square footage, age and make of the home, and any other pertinent information.
How to close on a mobile home
Once you find a qualified buyer, go through the inspection process, and get the funding in place, it will be time to close. If you're selling the home and land below it, your closing process will be similar to a traditional home's process; if you're selling only the home, it will be more like selling a car (and you might need to visit the DMV with your buyer to get the job done).
In either case, you will transfer the title to the new owner when the money has changed hands. If you are doing owner financing, make sure your name is added as a lien holder when the title is transferred, and remove the lien only after the loan is fully paid off.
Selling your home in a 55 plus retirement community
When the time comes to sell your home choosing an experienced Realtor who really understands the market is so important. Probate, Wills, Trusts …they can all contribute to a more complicated transaction. it's important that you have the right representation. Having completed thousands of transactions we have the knowledge, experience and relationships to make the process stress free and leave you to concentrate on the important things in live like family an friends.
With over 30 years experience of selling property in the 55 plus active adult communities in the Disney Orlando area we have become the acknowledged experts in the Four Corners area. We have sold more retirement homes in the Disney Orlando area than any other independent real estate Brokerage. We understand the unique requirements and restrictions in each of the communities and we even know the difference between mobile and manufactured homes!!!
Click Here for more information or call us today to learn more! (863)424-2309
Ready to make a Move?
Bardell Real Estate are the experts in helping you with your selling, buying or renting needs near Orlando, Florida. Make your Disney area experience a forever memorable one. Call us now to speak to a real estate agent.