How to Choose a Realtor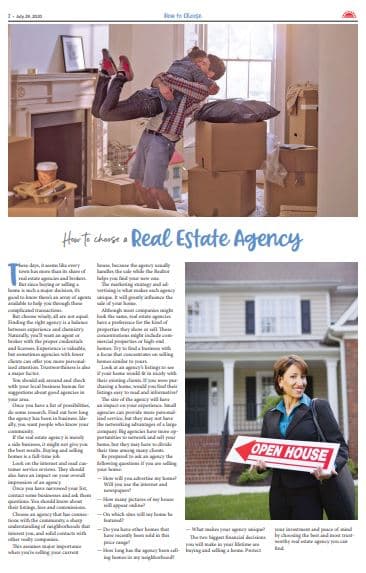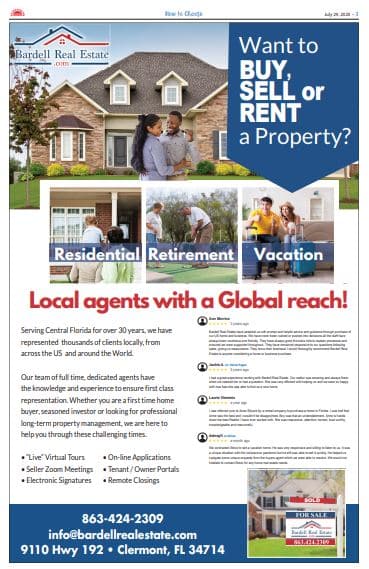 These days, it seems like every town has more than its share of real estate agencies and brokers.
But since buying or selling a home is such a major decision, it's good to know there's an array of agents available to help you through these complicated transactions. But choose wisely, all are not equal. Finding the right agency is a balance between experience and chemistry. Naturally, you'll want an agent or broker with the proper credentials and licenses. Experience is valuable, but sometimes agencies with fewer clients can offer you more personal-ized attention. Trustworthiness is also a major factor.
You should ask around and check with your local business bureau for suggestions about good agencies in your area. Once you have a list of possibilities, do some research. Find out how long the agency has been in business. Ideally, you want people who know your community.
If the real estate agency is merely a side business, it might not give you the best results. Buying and selling homes is a full-time job. Look on the internet and read customer service reviews. They should also have an impact on your overall impression of an agency. Once you have narrowed your list, contact some businesses, and ask them questions. You should know about their listings, fees, and commissions.
Choose an agency that has connections with the community, a sharp understanding of neighborhoods that interest you, and solid contacts with other realty companies. This assumes major importance when you're selling your current house, because the agency usually handles the sale while the Realtor helps you find your new one. The marketing strategy and advertising is what makes each agency unique. It will greatly influence the sale of your home. Although most companies might look the same, real estate agencies have a preference for the kind of properties they show or sell. These concentrations might include commercial properties or high-end homes. Try to find a business with a focus that concentrates on selling homes similar to yours. Look at an agency's listings to see if your home would fit in nicely with their existing clients. If you were purchasing a home, would you find their listings easy to read and informative? The size of the agency will have an impact on your experience. Small agencies can provide more personalized service, but they may not have the networking advantages of a large company. Big agencies have more opportunities to network and sell your home, but they may have to divide their time among many clients.Be prepared to ask an agency the following questions if you are selling your home:
— How will you advertise my home?
Will you use the internet and newspapers?
— How many pictures of my house will appear online?
— On which sites will my home be featured?
— Do you have other homes that have recently been sold in this price range?
— How long has the agency been sell-ing homes in my neighborhood?
— What makes your agency unique?
The two biggest financial decisions you will make in your lifetime are buying and selling a home. Protect
your investment and peace of mind by choosing the best and most trustworthy real estate agency you can find.
Ready to make a Move?
Bardell Real Estate are the experts in helping you with your selling, buying or renting needs near Orlando, Florida. Make your Disney area experience a forever memorable one. Call us now to speak to a real estate agent.