The real estate market continues to improve across the USA and Central Florida – evidenced by the big increase in homes for sale in Orlando New Construction Market. Florida home builders are enjoying a positive response and increasing sales in their new home construction communities: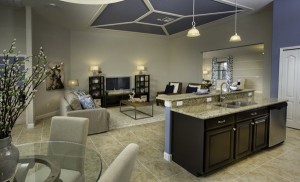 Lennar was the first developer to offer homes for sale in their Orlando based luxury resort and golf community, Champions Gate. Shortly after they launched Victoria Woods in Providence Golf and Country Club located in Davenport and the second phase of their luxury resort Paradise Palms located in Kissimmee just 10 minutes from Walt Disney World.
Park Square Homes and DR Horton quickly followed suit with the successfully launch of their latest joint new home construction development in Davenport, Florida.   Solterra is an upscale gated community located in Davenport within minutes of Champions Gate and Walt Disney World.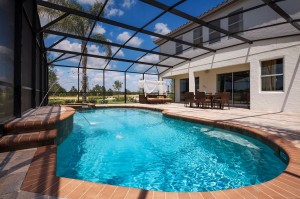 The latest development which offers luxury town homes for sale with their own paved court yards is Waterstone located off Hwy 27.   With home prices starting from $145,900 for 3 bedroomed town homes demand is high.   Community pool, clubhouse with fitness center, children's room, catering kitchen and lounge area available for use by residents and their guests.
The success of developers and their new home construction developments in Orlando, Florida is repeated throughout the US as the recovery of the new-home market picked up speed in August, with builders beginning construction on more single-family homes and building permits soaring to a five-year high, the Commerce Department reported Wednesday.
Construction starts on single-family homes rose 7 percent in August, reaching its highest point in six months, according to the Commerce Department.
"Home building seems to be holding up decently in the higher mortgage rate environment, probably due to the support of strong underlying fundamentals: thin inventories and steady household formation," says economist Guy Berger.
Single-family housing starts rose across the country, with the West seeing the biggest gain: 17.5 percent. They increased by 9.6 percent in the Northeast, 7.1 percent in the Midwest, and 2.3 percent in the South.
"This is the kind of signal we've been looking for, with single-family starts and permits up or holding steady across every region in the nation," says David Crowe, chief economist for the National Association of Home Builders. "Today's report is reflective of gradual improvement in buyer confidence in the overall market and our recent surveys that indicate a solid outlook for single-family production. On the multifamily side, we are catching up with underlying rental demand. We expect to see additional multifamily starts in the future, but not as rapid a pace of growth as we've seen in the past."
In August, starts within the multi-family market — which includes the volatile apartment and condo sector — dropped 11.1 percent. Higher mortgage rates could be making developers in the multifamily sector more cautious about starting new projects, Reuters reports.
Meanwhile, the gains are expected to continue for the single-family housing market. Building permits for single-family homes, a gauge for future construction, rose 3 percent in August to its highest level since May 2008. Building permits for multifamily homes plummeted 15.7 percent in August.
Source:  National Association of Home Builders and "Home Construction Rises, as Do Building Permits," Reuters (Sept. 18, 2013)
The number of developers offering new homes for sale in Orlando is a tangible sign that the real estate recovery in Florida is at the forefront of the US housing market return.