HOLIDAY BOUTIQUE STROLL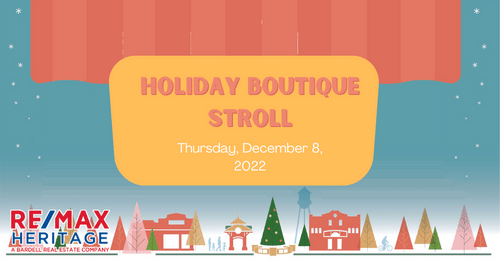 HOLIDAY BOUTIQUE STROLL
Thursday, December 8
5:00 pm – 8:00 pm
Historic Downtown Winter Garden
Holiday shopping at its finest with a stroll of the boutiques of Downtown Winter Garden to find unique presents while enjoying complimentary light refreshments, in-store raffles, outdoor/indoor specials and promotions, seasonal merchandise, and more! Look for the Balloons at the Participating Boutiques and make a purchase to enter the Grand Prize Raffle to win gift basket worth over $400!
Hosted by:
Adjectives Market, 137 W. Plant Street
Apricot Lane Boutique, 264 W. Plant Street
Artifact Candle Foundry, 267 Tremaine Street
The Boutique on Plant, 111 W. Plant Street
Doxology, 49 S. Main Street
Driftwood Market, 46 W. Plant Street
LiveTrends Boutique, 279 Tremaine Street
Polka Dotz, 12 W. Plant Street
Ruby & Rust, 31 S. Main Street
Shoo Shoo Baby Boutique, 117 S. Boyd Street
Silver Shekel Shop, 146 W. Plant Street
Swalty Sisters, 24 E. Joiner Street
Wildflower Beauty by Jessica, 100 W. Plant Street
While perusing the outdoor racks and strolling through festive downtown, you will find colorful sights and sounds with enchanting decorations and light displays and holiday music in the air – reminisce of a Hallmark holiday movie! The festively decorated stores and downtown area truly make it a perfect evening for gift buying.
FREE PARKING – Always!
Convenient parking is always free throughout Downtown Winter Garden, including at its three-level parking garage (160 S. Boyd St.) and the new 117-space parking lot (37 N. Boyd St.).
Special offers and participation is at the discretion of the individual retail establishments.
TIS THE SEASON SCHEDULE OF EVENTS
Downtown is Merry all December long! For a list of Tis the Season events, click here 
Experts in Residential Real Estate in Orlando
If you are buying or selling real estate it's quiet often the single most important financial decision you make. For the last 30 years we have helped clients buying and selling property in Orlando and the surrounding areas. Put simply, this means the knowledge and expertise accumulated over this time ensures our clients get the best representation possible.
Our experienced agents will help and guide you through the entire process providing valuable support every step of the way.
Ready to make a Move?
Bardell Real Estate are the experts in helping you with your selling, buying or renting needs near Orlando, Florida. Make your Disney area experience a forever memorable one. Call us now to speak to a real estate agent.