Would you live in a Haunted House?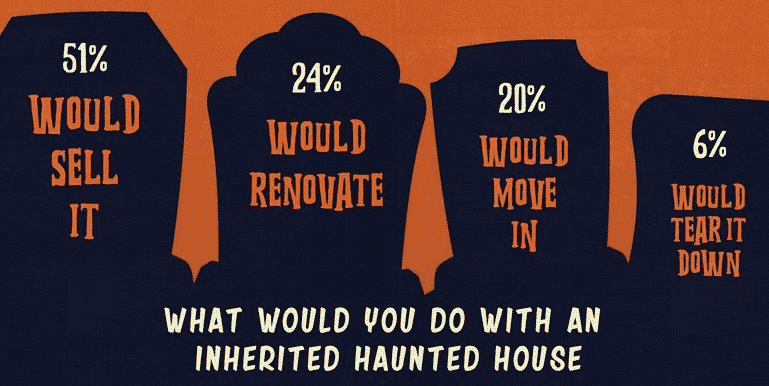 According to the Nearly 60% of consumers who claim to live in a haunted house say they didn't know their house was haunted until after they moved in! 
What makes a house haunted? Strange noises and shadows are the spookiest occurrences reported by homeowners.
According to realtor.com®'s fourth annual Haunted Real Estate Report. took a survey and Forty-eight percent of survey respondents said items inside the home shifted on their own, 47% said certain rooms felt haunted, 46% said they would feel touched, and 44% said their home had hot and cold spots, 
Thirty-seven percent of respondents say they had a feeling the home they wanted to buy was haunted, but they decided to move in anyway, the survey showed. Twenty-three percent of survey respondents said that if they moved into a haunted house, they would try to flush ghosts out with a renovation, such as with a new kitchen or floor replacement.
The craziest thing is that Nearly 43% of respondents were willing to live next to a house they believed is haunted! 
 Take a look at these haunted houses that have recently sold or are currently on the market!

Historic Campbell Castle
15,000 square-foot Kansas property is on the market for $3.5 million. It has 16 bedrooms, 14 full bathrooms, two half bathrooms and sits on a two-acre lot overlooking the river and is filled with historic, European antiques originally imported by Colonel Burton Harvey, the home's first inhabitant. Rumors of hauntings abound with claims that ghosts traveled from Europe along with the parts of the house that were originally salvaged from castle ruins.  It's protected on the National Register of Historic Places.

Charming Forge Mansion
7,821 square-foot home in Womelsdorf, Pennsylvania dates back to 1749 and has been preserved and restored with museum-like attention to detail. It's on the market for $825,000. It features seven bedrooms, seven working fireplaces, and a designer kitchen. Situated along the Tulpehocken Creek, the area is protected by a land trust. It does have a history of paranormal activity. Local legend has it that a young man was tragically doomed to die in the house. 

Schweppe Mansion
Known as Mayflower Place, it played host to royalty at one time. Twenty years after they married, Laura died unexpectedly of a heart attack. The ghost tale says that she bequeathed most of her estate to her children, rather than her husband. Four years after her death, Charles committed suicide after leaving a bizarre note for his children to find. It's said the couple remain in the home together, visiting several bedrooms of the estate. The 25,000 square-foot property has 10 bedrooms and sits on a 5.4-acre lot. The asking price is $8.95 million.
Ready to make a Move?
Bardell Real Estate are the experts in helping you with your selling, buying or renting needs near Orlando, Florida. Make your Disney area experience a forever memorable one. Call us now to speak to a real estate agent.