Should You Consider Homes for Sale By Owner?
For Sale by Owner – As the season changes, you will start to see the inevitable signs of spring: tulips poking their heads from the ground, the robins hopping, and For Sale signs on front lawns. Many home owners want to take advantage of the warmer temperatures and new beginnings to sell their home, and likewise, for buyers to find a new place to call home.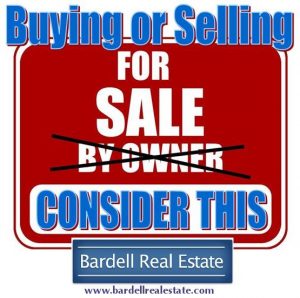 You may notice that some of those For Sale signs do not have real estate representation, but rather are homes for sale by owner. This means that you are buying the home directly from the owner with no involvement from any real estate agents. This has a number of benefits. First, homes for sale by owner help you save on the costs of selling a home, which means you may be able to get a better price. Next, you and the seller can talk and negotiate one-on-one without pressure from a real estate agent to sell. Finally, you may be able to create a rapport which can make the process smoother and more enjoyable.
However, you also need to understand the drawbacks, as indicated below, of homes for sale by owner.
The Price Isn't Right
One of the main reasons that home owners try to sell their home themselves is to avoid paying fees to a real estate agent. These fees can mean a relatively large percentage – often 6%, with 3% going to the agent of the buyer and the other half going to the seller's agent – of the sale price on a home. Unfortunately, because some sellers do not have the experience of researching the current market value of their home, they tend to overvalue the home, which can make it difficult to receive offers and make that sale.
Just the Facts, Please
There's more to homes for sale by owner than determining a sale price and making the home look attractive. For example, sellers are subject to disclosure laws that indicate defects or history of a home that can affect its use and/or enjoyment. These may include, but are not limited to, a basement that floods during heavy downpours, lead-based paint in the home, mold issues, and more. When private sellers may not be aware of the issues they need to disclose, you as the buyer may be forced to endure significant financial, legal, and emotional stress to remedy the situation.
An Inconvenient Truth
By rejecting the services and expertise of a qualified real estate professional, sellers are taking on all of the responsibilities of selling the home themselves. They need to list the home, market the home, be available for showings, negotiate contracts – all on top of the responsibilities of their daily lives. Fitting all of this in can make it inconvenient for buyers. For example, you can only see a home or schedule an inspection when the sellers are around, and if they work during the week and have errands to run on weekends, finding a mutually beneficial time can be difficult. Sellers may take longer to address paperwork tasks or answer questions due to lack of time, again which can stall a home sale.
The Art of Negotiating
Chances are, a private seller has not had much experience in negotiating financial transactions, especially ones as large as a home sale. As a result, this situation may have more glitches and hiccups than one using a real estate agent. This can cause undue stress when you are trying to sell your own home or end your rental situation. Also, an inexperienced negotiator could be less savvy in completing the deal or ensuring compliance with local regulations – at your expense.
Make the Right Choice
While it is true that homes for sale by owner can work well for both the buyer and seller, do you know what to do when things go wrong? Using a real estate agent to represent your best interests can remove the stress and uncertainty of a private sale, and can help ensure that all financial and legal questions are answered smoothly.
Source: Shamrockfinancial.com
If you have questions about selling your home, contact the real estate professionals at Bardell Real Estate for information.  Don't take the journey alone.
Should You Consider Homes for Sale By Owner?