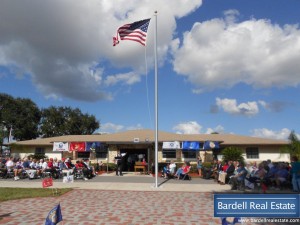 On Sunday, November 11, 2012, friends, family and residents of the Florida Polo Park adult community in Davenport gathered to honor all United States Veterans. The Veterans Memorial and Dedication Ceremony was held at 1p.m. at the Polo Park Boulevard Clubhouse.
Polo Park HOA President, Vincent McCrave opened with warm words for US Veterans.
Veterans Were Recognized Through Ceremony
The event was to recognize our Veterans, both living and deceased for their sacrifices and dedication to our country. It was also a time for giving thanks to those who have risked their lives while serving our country. A formal presentation of the Capitol flag was conducted by Reverend John Long. Also Federal, FloridaState, and Polk County Proclamations were presented.
Soldiers Were Remembered Through Music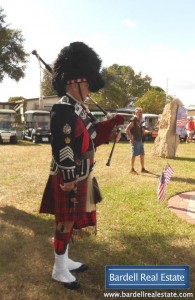 Honorary Celebrations included Scottish Bag Piper Scotty Meredith, and the traditional musical piece "Taps" sounded by bugle trumpeter, Sgt. Dick Hamilton during the flag ceremony.  The Polo Park Choir proudly sand the Star Spangled banner and Dedication pavers were present to honor soldier family names.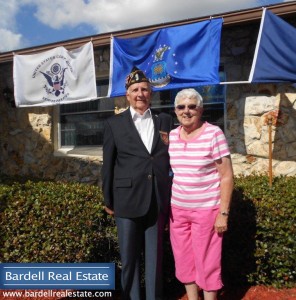 At this beautiful memorial, hearts were warmed and tears of both remembrance and joy were shed this Veterans Day, 2012. Our very own Betsy Bardell of Bardell Real Estate was at the Memorial to honor and to remember the Veterans.