Fla. Approves more than 50% of Counties for Vacation Rentals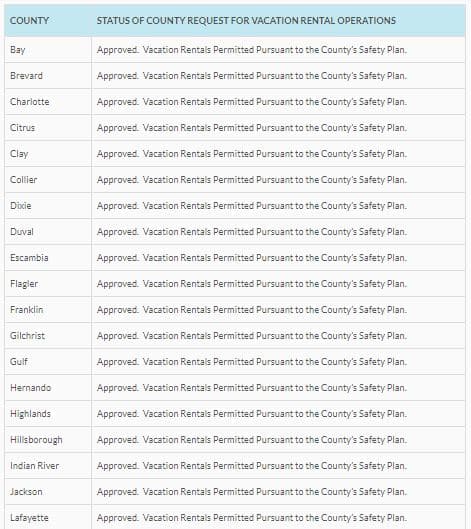 Part of Florida Gov. Ron DeSantis' response to the coronavirus pandemic was to authorize the Florida Department of Business and Professional Regulation (DBPR) to approve the reopening of vacation rentals based on plans submitted by counties. During the pandemic and until they received DBPR approval, those homes were been banned from accepting reservations or hosting renters after DeSantis signed an executive order in late March.
As of Tuesday morning, 42 of Florida's 67 counties had received DBPR approval to reopen under safety guidelines set by each county. While those rules may be different, DeSantis set some general guidelines when he announced the change, such as prohibiting or discouraging renters from pandemic hotspots, such as New York or Louisiana.
Last week, however, the governor announced a reopening of vacation rentals, providing steps were taken to minimize the spread of COVID-19 and counties agreed to make sure those safety measures were followed.
Many counties quickly submitted approval plans following the announcement, and DBPR has quickly approved a number of them. On Friday, 26 counties had received DBPR approval, and that number grew to 42 only four days later.
Ready to make a Move?
Bardell Real Estate are the experts in helping you with your selling, buying or renting needs near Orlando, Florida. Make your Disney area experience a forever memorable one. Call us now to speak to a real estate agent.