Poinciana Parkway First leg nears completion
Poinciana Parkway – According to a traffic study, Poinciana residents have the longest — and, by the data, the worst — commute among all Florida communities with more than 15,000 residents.
Poinciana's 58,000 residents endure an average commute time of 42.8 minutes, based on data from the American Community Survey taken from 2010-14.
But, that study was done without taking into account the Poinciana Parkway, the first production of the Osceola County Expressway Authority (OCX), which will open with much fanfare April 30.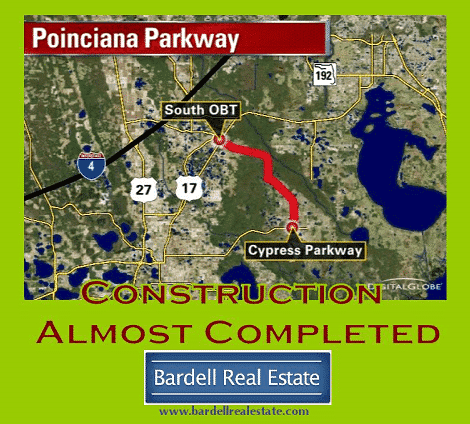 Years after Poinciana residents began clamoring for a road out of their community that didn't involve the clogged Cypress Parkway to the south and west or Pleasant Hill Road to the north and east, drivers will be able to directly access U.S. Highway 17-92 and have better access to U.S. Highway 27 and Interstate 4 next month.
Poinciana Parkway, a toll road that will eventually get the designation of State Road 538, will first open from Marigold Avenue to 17-92. The road uses the existing Kinney Harmon Road at the north and connects to Marigold via a bridge of slightly more than a mile across the Reedy Creek Mitigation Bank.
The segment will have a toll gantry north of Marigold Avenue just south of the Reedy Creek Bridge charging $1.75. All tolls will be collected electronically by overhead gantries and E-Pass transponders or by Toll-By-Plate ($1.95 billed to the owners of cars without transponders).
Tolls will not be collected for the first month (creating a "ride on the FreeMay") as the expressway authority wants to let drivers get in the habit of using the parkway before tolls go into effect on June 1.
The portion from Marigold Avenue south to Cypress Parkway will open later in the year with a 50-cent toll.
OCX will use the tolls to maintain the road and pay off $70 million in municipal bonds Osceola County secured for construction, which officials said would finish on time and on budget.
According to AECOM, an OCX-hired consultant, Poinciana Parkway is expected to generate $1.2 million in toll revenue this year, rising to $4.5 million in 2020, when the Southport Connector, another road linking Cypress Parkway near Poinciana to Florida's Turnpike south of Lake Tohopekaliga, is slated to be open and collecting tolls.
Fences have been constructed along the Poinciana Parkway, and most of the guardrails are in place. Some cleanup and paint on the Reedy Creek Bridge and road striping are all that keeps that section from looking like a completed roadway.
County Commissioner Brandon Arrington, whose district 3 includes Poinciana, was on site Monday. He was pleased that the long-awaited road will open in about six weeks.
"When I came onto the board seven and a half years ago, people were already asking for another way out of Poinciana," he said. "Since then we've created an expressway authority, assembled its board, got bonding capacity, struck a real deal with Avatar Homes for the land and built a road. This is so cool to see. After seeing this through I'm the happiest guy to be standing here."
He'll be even happier, he said, when he helps a field of runners trample the ribbon (rather than cut it) during the Poinciana Parkway 5K race at 7:30 a.m. on April 30. Students can run the race for $5. All others can sign up for $20 through April 20 at www.kissimmeechamber.com under Upcoming Events.
Free E-Pass transponder stickers will be available at the opening 5K and festival.
Source: Osceola News-Gazette
First Poinciana Parkway leg nears completion