Existing home sales-February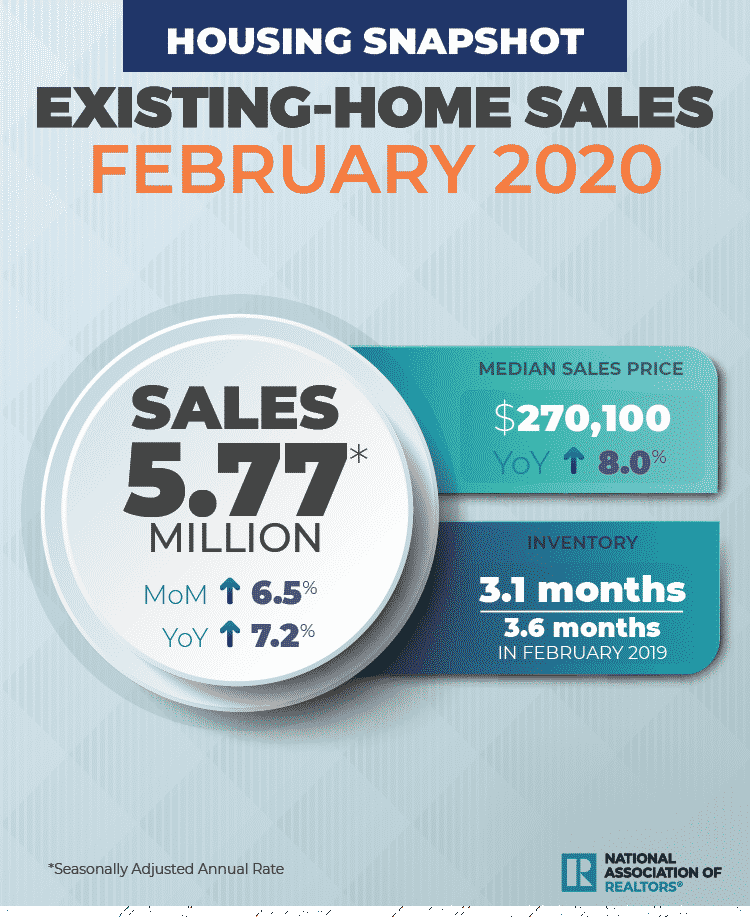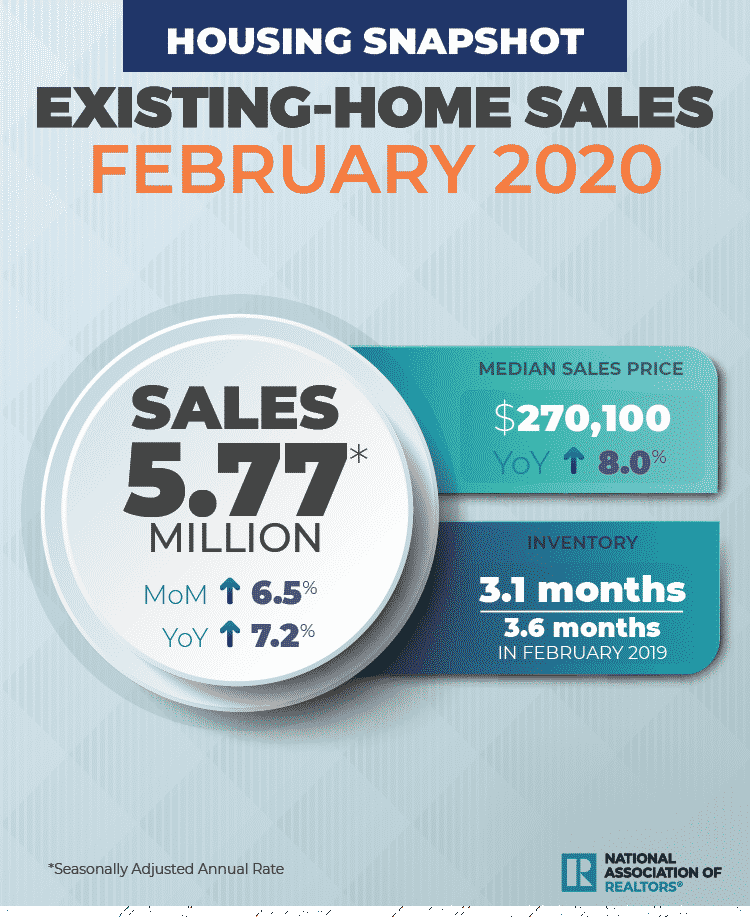 Existing-home sales climbed substantially in February after a slight decline in January, according to the National Association of Realtors®. Of the four major regions, only the Northeast reported a drop in sales, while other areas saw increases, including sizable sales gains in the West.
Total existing-home sales,1 https://www.nar.realtor/existing-home-sales, completed transactions that include single-family homes, townhomes, condominiums and co-ops, rose 6.5% from January to a seasonally-adjusted annual rate of 5.77 million in February. Additionally, for the eighth straight month, overall sales greatly increased year-over-year, up 7.2% from a year ago (5.38 million in February 2019).
"February's sales of over 5 million homes were the strongest since February 2007," said Lawrence Yun, NAR's chief economist. "I would attribute that to the incredibly low mortgage rates and the steady release of a sizable pent-up housing demand that was built over recent years."
The median existing-home price2 for all housing types in February was $270,100, up 8.0% from February 2019 ($250,100), as prices rose in every region. February's price increase marks 96 straight months of year-over-year gains.
Yun noted that February's home sales were encouraging but not reflective of the current turmoil in the stock market or the significant hit the economy is expected to take because of the coronavirus and corresponding social quarantines. "These figures show that housing was on a positive trajectory, but the coronavirus has undoubtedly slowed buyer traffic and it is difficult to predict what short-term effects the pandemic will have on future sales," Yun said.
Total housing inventory3 at the end of February totaled 1.47 million units, up 5.0% from January, but down 9.8% from one year ago (1.63 million). Unsold inventory sits at a 3.1-month supply at the current sales pace, equal to the supply recorded in January and down from the 3.6-month figure recorded in February 2019.
Properties typically remained on the market for 36 days in February, seasonally down from 43 days in January, and down from 44 days in February 2019. Forty-seven percent of homes sold in February 2020 were on the market for less than a month.
First-time buyers were responsible for 32% of sales in February, equal to the percentages seen in both January 2020 and in February 2019. NAR's 2019 Profile of Home Buyers and Sellers – released in late 20194 – revealed that the annual share of first-time buyers was 33%.
Ready to make a Move?
Bardell Real Estate are the experts in helping you with your selling, buying or renting needs near Orlando, Florida. Make your Disney area experience a forever memorable one. Call us now to speak to a real estate agent.