Avoid Scams During the Aftermath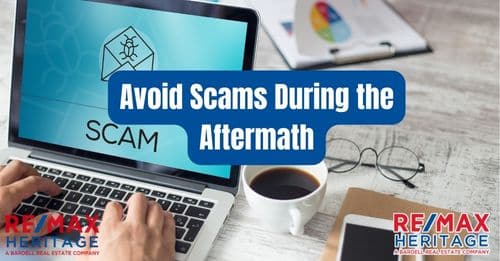 ​
Avoid Scams During the Aftermath
Residents are warned to be aware of the possibility of fraud and disaster scams in the aftermath of Hurricane Ian.
Following a disaster like Hurricane Ian, qualified contractors are usually in high demand and often become booked up for months. Scammers or unqualified out-of-state workers may flood in to take advantage of Floridians in need of expert service.
If property is damaged from the storm, the Florida Attorney General's Office offers these tips when hiring a contractor:
Have an insurance company evaluate damage before arranging repairs to ensure the work will be covered under a policy.
Get at least three written, itemized estimates on bids or repairs.
Watch out for unsolicited offers or contractors claiming to perform repairs at a discount with leftover supplies from another job.
Research a company and its reputation-look for references online or ask a friend. Also check to see if a company is properly licensed, insured and if there are any consumer complaints filed against a licensed contractor at MyFloridaLicense.com or by calling the Florida Attorney General's Office at

 

(866) 9NO-SCAM.
Make sure a contractor is bonded and verified with a bonding agency.
Read the entire contract, including the fine print, before signing to ensure it includes the required buyer's right to cancel language. Understand penalties that may be imposed for cancellation.
Insist on releases of any liens that could be placed on the property from all subcontractors prior to making final payments. Homeowners may unknowingly have liens placed against their properties by suppliers or subcontractors who have not been paid by the contractor. If the contractor fails to pay them, the liens will remain on the title.
Never pay the full amount of a repair expense upfront and be wary before providing large deposits. Do not sign a certificate of completion or make final payment until satisfied with the work performed.
Florida's Chief Financial Officer warns individuals and businesses looking to contribute to Hurricane Ian relief efforts to be cautious of imposter GoFundMe style crowdfunding websites and charity scams. Floridians are encouraged to donate to the Florida Disaster Fund. To contribute, visit  www.FloridaDisasterFund.org or text DISASTER to 20222.
The Federal Trade Commission offers these tips to avoid charity scams:
Don't let anyone rush you into making a donation.
Some scammers try to trick you into paying them by thanking you for a donation that you never made.
Scammers can change caller ID numbers to make a call look like it's from a local area code.
If someone wants donations in cash, by gift card, or by wiring money, don't do it. To be safer, pay by credit card or check.
It's a good practice to keep a record of all donations and review your statements closely to make sure you're only charged the amount you agreed to donate – and that you're not signed up to make a recurring donation.
Before clicking on a link to donate online, make sure you know who is receiving your donation. Read Donating Through Crowdfunding, Social Media, and Fundraising Platforms for more information.
The Federal Emergency Management Agency gives the following tips to avoid scams, protect your identity and stay informed:
FEMA, the Department of Homeland Security, and the Small Business Administration and other federal agencies will never charge you for disaster assistance.
Always ask to see identification. FEMA personnel will always have an official ID badge. Do not offer any personal information unless you are speaking with a verified FEMA representative.
Stay tuned to trusted local media for updates from your local officials on disaster fraud and scams.
Contact FEMA's Investigations and Inspections Division by email at StopFEMAFraud@fema.dhs.gov or call

 

(866) 223-0814

 

or by mail at 400 C Street SW, Suite 7SW-1009, Mail Stop 3005, Washington, D.C., 20472-3005.
Contact your state consumer protection offices.
Report corruption, fraud, waste, abuse, mismanagement, or misconduct to DHS Office of the Inspector General or file a complaint with the National Center for Disaster Fraud.
Visit

 

IdentityTheft.gov to report and recover from identity theft.
Get Connected. Stay Alert.  
For more information on Hillsborough County's response to Hurricane Ian, visit HCFLGov.net/StaySafe and sign up for the HCFL Alert system. Additionally, you can follow Hillsborough County on social media at Facebook, Twitter, and Nextdoor for updates.
.
Ready to make a Move?
Bardell Real Estate are the experts in helping you with your selling, buying or renting needs near Orlando, Florida. Make your Disney area experience a forever memorable one. Call us now to speak to a real estate agent.