Avoid DIY disasters that ruin the first impression for buyers.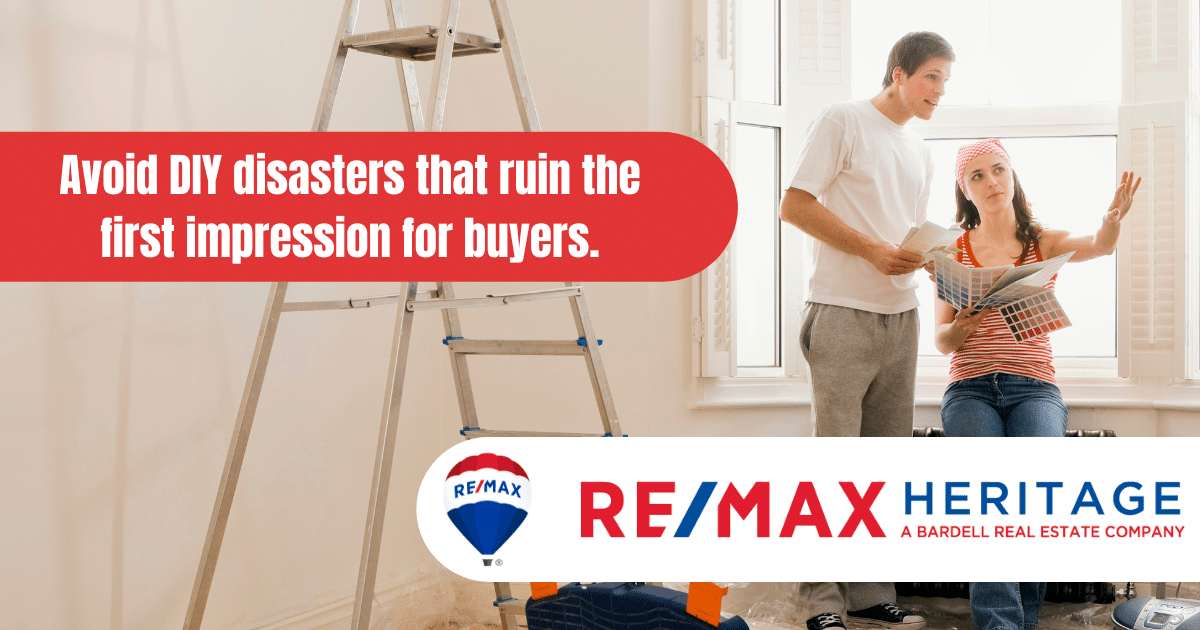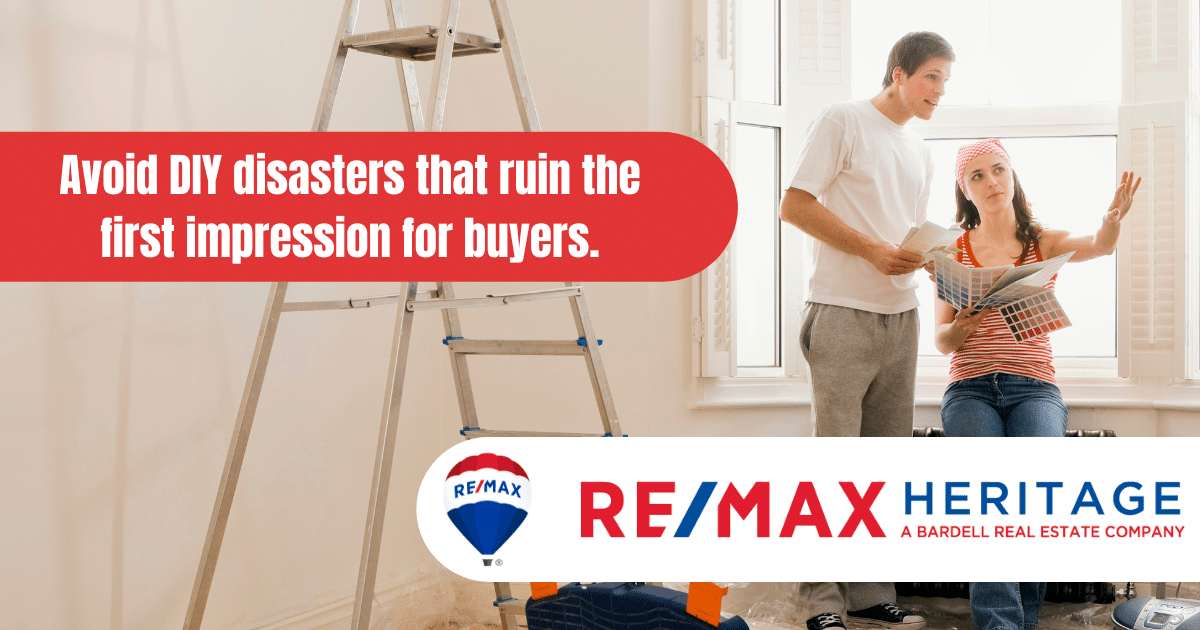 Avoid DIY disasters that ruin the first impression for buyers.
When you're checking out a home for sale, it's not just about the curb appeal, my friend. Sellers usually spruce things up before putting their house on the market, like giving those cabinets a fresh coat of paint and swapping out the hardware.
But hey, here's the deal: if the job isn't done right, you bet buyers are gonna notice the shoddy workmanship. In fact, some buyers might completely lose interest in the house if the renovations are a hot mess.
So, hang tight and let's spill the tea on the most common DIY projects that home sellers tackle—and how they can totally botch 'em up.
1. Altering garage space to add square footage
Extra square footage is usually a hit with potential buyers, but there's a catch: it has to flow naturally and seamlessly with the rest of the house. That awkwardly converted space can be a deal breaker for many.
I recently had a client who encountered this issue. The homeowner had enclosed the carport, put carpet over the cement garage floor, and turned it into a game room. But guess what? The buyer took one look at it and didn't even bother checking out the rest of the house. Talk about a turn-off, right?
Converting a garage into living space may give you more room inside, but it comes at the cost of losing valuable storage and parking space. And in this case, it even messed up the curb appeal because instead of a garage door, there was just a wall at the end of the driveway. Not exactly the ideal first impression.
2. Doors that don't open right
We all understand that a stunning front door can instantly boost the curb appeal of a house. However, if that door sticks or requires some fancy handle maneuvering just to enter, all that appeal goes down the drain. And guess what? The same goes for interior doors too. If you've invested in upgraded doors for your home but they aren't properly installed, they'll quickly lose their "wow" factor.
A door that swings the wrong way or doesn't give enough clearance to the sink, toilet, or cabinetry is a dead giveaway that a licensed professional wasn't involved in the process. It's all about the details, my friend, and a well-hung door can make a significant difference in the overall impression of your home.
3. Haphazardly placed hardware
If your kitchen cabinets are still in top-notch condition but could use a hardware upgrade, pay close attention to how you position those new knobs, pulls, and handles.
Believe it or not, even seemingly minor details like backward or upside-down hardware don't escape the eagle-eyed gaze of buyers. These little blunders can be a major turnoff for potential buyers who are looking for a move-in ready property. Let's face it, nobody wants to deal with fixing someone else's sloppy work when they're looking for their dream home.
4. Crown molding that looks anything but elegant
Crown molding has the potential to add value and elegance to a room by framing it. However, if the installation is poorly executed, it can have the opposite effect.
In a recent example, a condo underwent renovations before being listed for sale. The family room was upgraded with the addition of crown molding. Unfortunately, the craftsmanship left much to be desired, with noticeable flaws such as visible cuts and nails.
Furthermore, this lack of attention to detail extended beyond the family room to other areas of the house, including the trim work. Potential buyers quickly noticed these subpar finishes, which ultimately deterred them from considering the property. This serves as a reminder that meticulous workmanship and precision are crucial when aiming to create a positive impression on prospective buyers and maximize the chances of a successful sale.
5. Painting over imperfections on the wall
Painting is a go-to DIY project for many homeowners. It's a cost-effective way to give a room an instant refresh, but there's a catch—it has to be done right.
Simply rolling a fresh coat of paint over surfaces that haven't been properly prepared won't hide imperfections like cracks, gaps, or chipped paint. These flaws will show through the new color, completely defeating the purpose of impressing potential buyers with freshly painted rooms. The key here is to properly prep the walls before painting to ensure a smooth and flawless finish that will make a positive impact on buyers.
6. Botched mortar jobs
Uh-oh! Your open house is just around the corner, and guess what? You've just spotted cracks in the mortar between the bricks next to your front door. While you might be tempted to make a quick hardware store run for some mortar filler and tackle the job yourself, here's the deal—you'll need more than just a caulk gun to handle those gaps properly.
The real issue arises when old mortar isn't removed and new mortar is simply applied on top. That shoddy DIY approach can seriously harm the overall aesthetic of your house, making a terrible first impression on potential buyers. It's crucial to take the necessary steps to address the issue professionally and ensure that your home leaves a positive lasting impression on buyers.
7. New vanity, old faucet
Having an updated bathroom can greatly attract buyers, and one of the key elements that can transform its appearance is a new vanity. It has the power to change the overall aesthetics from old and grimy to fresh and modern—unless you've only done half of the job.
According to Melanie Everett,  founder of Melanie Everett and Company, a stylish and contemporary vanity loses its impact when buyers notice that you didn't replace the outdated, calcium-corroded faucet. It simply doesn't make sense. Moreover, it's worth noting that you can easily find trendy faucets for under $100.
Consistency is key when making small tweaks to your bathroom. It's essential to ensure that all the elements work together harmoniously. So, if you're going for a new vanity, it's wise to make sure that the faucet matches the desired aesthetic. Don't overlook these details that can make a significant difference in attracting buyers and creating a cohesive bathroom design.
8. Painting worn-out kitchen cabinets
It's common knowledge that an outdated kitchen can be a deal breaker for many potential homebuyers. However, if you haven't had the chance to replace your worn-out cabinets, you might think that a fresh coat of glossy white paint can make them look new for the listing photos, right? Well, not quite.
Trying to fool buyers with the appearance of the cabinets in listing photos won't work when they visit the property in person. While the light color may initially attract buyers to request a show
It's important to be upfront about the condition of your kitchen cabinets. While a coat of paint can help freshen them up, if they are in poor shape, it's best to address the underlying issues or consider a more comprehensive renovation. Being transparent with potential buyers will save both parties from disappointment and ensure a fair assessment of the property's value.
Experts in Residential Real Estate in Orlando
If you are BUYING or SELLING real estate it's quiet often the single most important financial decision you make. For the last 30 years we have helped clients buying and selling property in Orlando and the surrounding areas. Put simply, this means the knowledge and expertise accumulated over this time ensures our clients get the best representation possible.
Our experienced agents will help and guide you through the entire process providing valuable support every step of the way.
Ready to make a Move?
Bardell Real Estate are the experts in helping you with your selling, buying or renting needs near Orlando, Florida. Make your Disney area experience a forever memorable one. Call us now to speak to a real estate agent.