7 Tips for a Smooth Move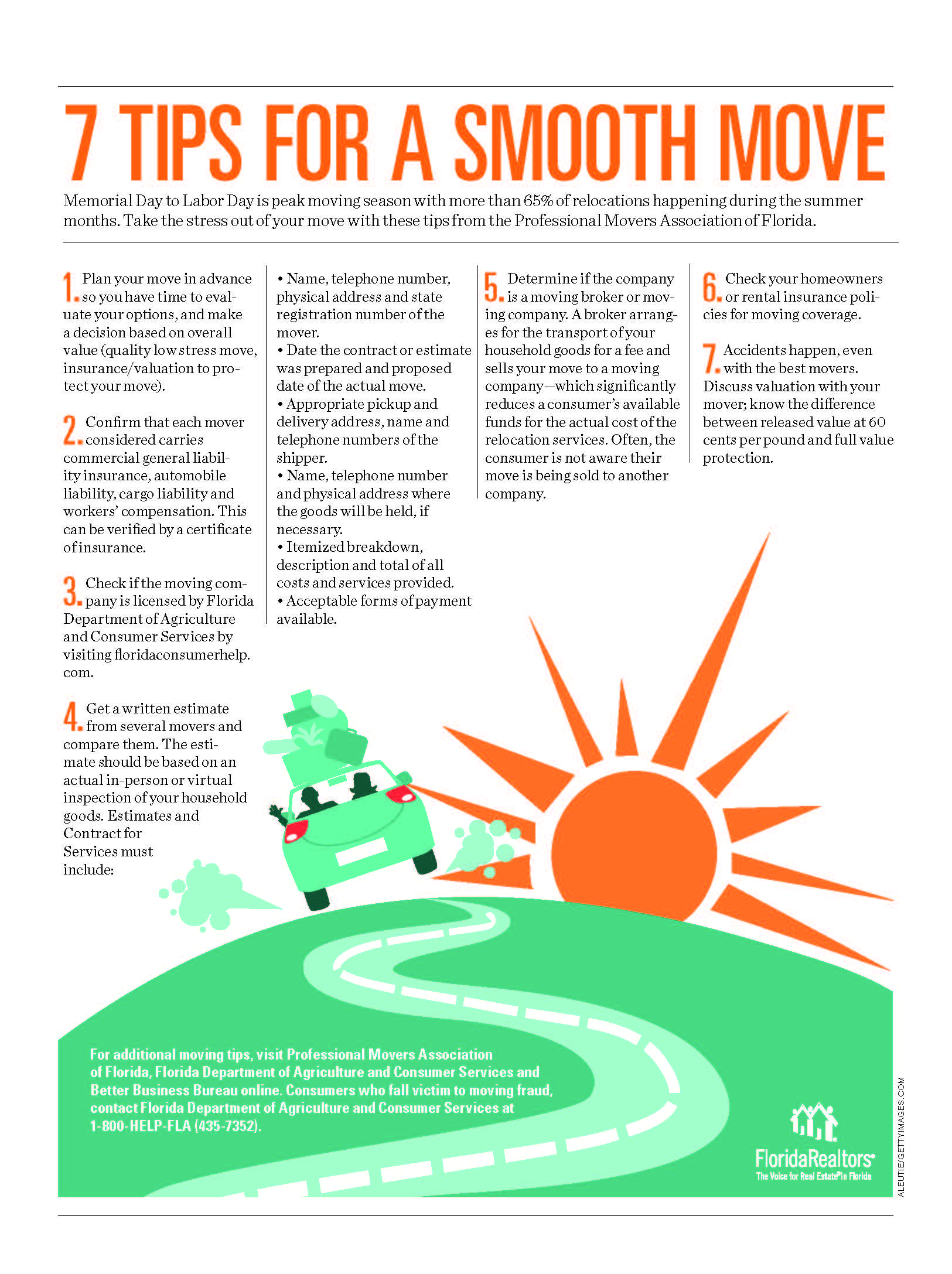 7 TIPS FOR A SMOOTH MOVE
Memorial Day to Labor Day is peak moving season with more than 65% of relocations happening during the summer months. Take the stress out of your move with these tips from the Professional Movers Association of Florida.
1. Plan your move in advance so you have time to evaluate your options, and make a decision based on overall value (quality low stress move, insurance/valuation to protect your move).
2. Confirm that each mover considered carries commercial general liability insurance, automobile liability, cargo liability and workers' compensation. This can be verified by a certificate of insurance.
3. Check if the moving company is licensed by Florida Department of Agriculture and Consumer Services by visiting floridaconsumerhelp.com.
4. Get a written estimate from several movers and compare them. The estimate should be based on an actual in-person or virtual inspection of your household goods. Estimates and Contract for Services must include:
– Name, telephone number, physical address and state registration number of the mover.
– Date the contract or estimate was prepared and proposed date of the actual move.
– Appropriate pickup and delivery address, name and telephone numbers of the shipper.
– Name, telephone number and physical address where the goods will be held, if necessary.
– Itemized breakdown, description and total of all costs and services provided.
– Acceptable forms of payment available.
5. Determine if the company is a moving broker or moving company. A broker arranges for the transport of your household goods for a fee and sells your move to a moving company which significantly reduces a consumer's available funds for the actual cost of the relocation services. Often, the consumer is not aware their move is being sold to another company.
6. Check your homeowners or rental insurance policies for moving coverage.
7. Accidents happen, even with the best movers. Discuss valuation with your mover; know the difference between released value at 60 cents per pound and full value protection.
For additional moving tips, visit Professional Movers Association of Florida, Florida Department of Agriculture and Consumer Services and Better Business Bureau online.
Consumers who fall victim to moving fraud, contact Florida Department of Agriculture and Consumer Services at 1-800-HELP-FLA (435-7352).
Ready to make a Move?
Bardell Real Estate are the experts in helping you with your selling, buying or renting needs near Orlando, Florida. Make your Disney area experience a forever memorable one. Call us now to speak to a real estate agent.