5 hidden costs of home buying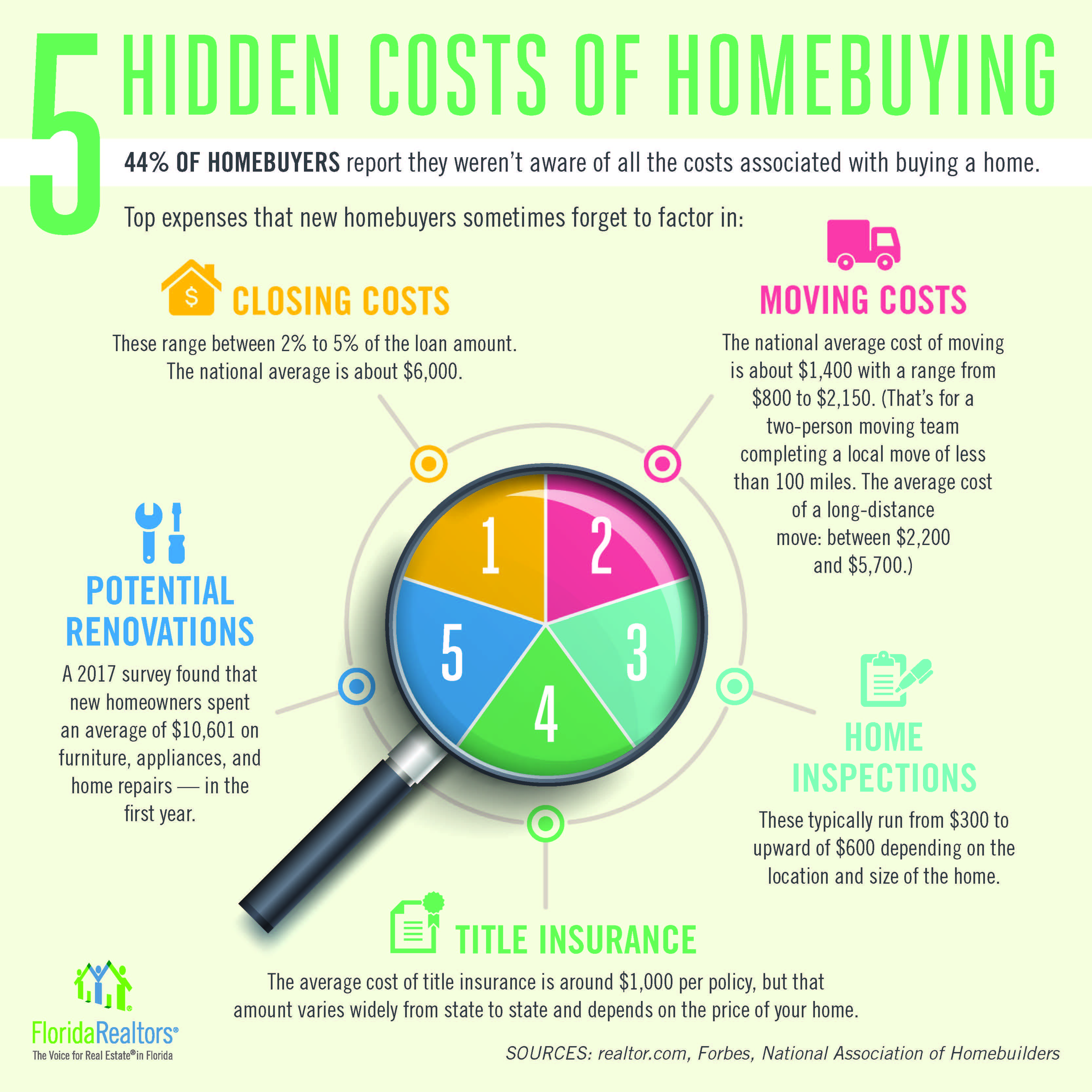 5 Hidden cost for Homebuyers
1. Home Inspection
After you've submitted an offer on a home and the seller has accepted, make sure the place you're planning to buy isn't a lemon. Hire a certified home inspector to examine the property from top to bottom before you go to closing. If you uncover hidden structural, mechanical or other issues, you can negotiate the repair terms with the seller before you finalize the deal. Otherwise, you will be solely responsible for any problems and the cost of fixing them.
2. Closing Costs
While having enough money saved up for a down payment is great, it's not the only cash you'll need to seal the deal on a home purchase. You also need an additional 2% to 5% of the home purchase price to cover so-called closing costs, which can include everything from a loan origination fee and attorney fees to prepaid homeowners association fees and taxes.
3. Home Maintenance and Repair
Certain costs can creep up on you once you have the keys to your new home in hand. Unlike renting, in which a landlord foots the bill for maintenance, as a homeowner you're on the hook for any upkeep and repair costs.
Survey of 1,000 U.S. homeowners. About of third (34%) of respondents in Hippo's survey said the surprise repair cost was less than $1,000. Another 30% said it was $1,000 to $2,499, and 23% said they paid $2,500 to $4,999. Meanwhile, 13% spent more than that.e.
4. Title Insurance
The Florida state government sets the price for title insurance in Florida. The average cost is between $500 to $1500. Most homeowners purchase this insurance when they buy property in Florida because more mortgage companies require it. As a buyer of real estate or a house, you must ensure that you have legal ownership rights and interests. Mortgage lenders will also require title insurance to qualify you for a loan with your property.
5.Moving Costs
If hiring professional movers for a relocation, you can expect to pay at least $1,000. As mentioned above, the average cost of a local household move is $1,250, and the average cost of a long distance move is $4,890. If you need to move within a certain timeframe and must move out of your old apartment or house, you may also need temporary housing and storage for your things. These expenses should be considered in your budget.
Ready to make a Move?
Bardell Real Estate are the experts in helping you with your selling, buying or renting needs near Orlando, Florida. Make your Disney area experience a forever memorable one. Call us now to speak to a real estate agent.