22nd Annual Governor's Job Fair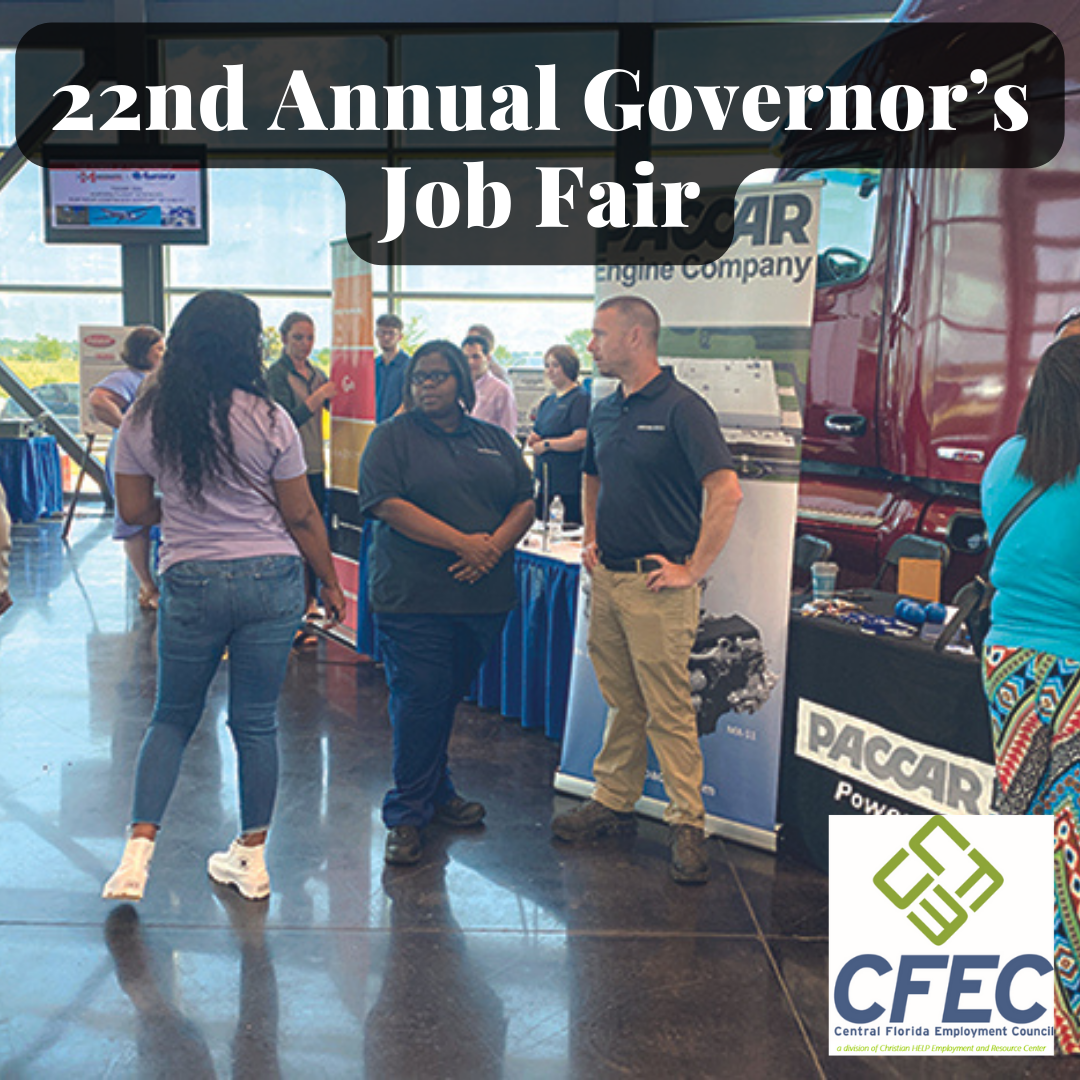 22nd Annual Governor's Job Fair, Orlando, September 7, 2022 – In Observation Of Workforce Development Month In Florida
HOW DO I REGISTER?
Job Seekers click to register.


(job seekers who are currently registered with CFEC, do not need to re-register to attend our job fairs)

Employers click to request employer job fair registration.

Job Fair in Orlando to feature nearly 100 employers offering 1000s of job openings in various industries from around the Central Florida Region! If you are job searching, then you don't want to miss this event! Meet, network and interview with nearly 100 employers, under one roof!

Meet your next employer in person at the…
22nd Annual Governor's Job Fair
Wednesday, September 7, 2022
Doors open from 12:00-4:00 PM
Central Florida Fairgrounds Expo Hall
4603 W Colonial Dr, Orlando, FL 32808
DIRECTIONS:
Indoor Event – rain or shine. Turn into the main entrance from the intersection of West Colonial Drive and Peter Parrish Blvd.

PRESENTED BY:
Central Florida Employment Council | CFEC, a division of Christian HELP
WHAT TO KNOW TO BE PREPARED:

ALL job seekers welcome! FREE admission & parking.

Hiring is happening, dress interview ready!


Thousands of Entry, Mid and Upper Career Level positions will be available.

Employer listing listed below. Start researching and applying now, then attend the job fair.

Meet, network and interview with many employers underone roof!


No children admitted, due to the nature of this event.

Professional dress REQUIRED

Bring paper copies of your résumé.

To feel more comfortable speaking with employers, prepare a "15-30 second commercial" about yourself stating your strong points, skills and education.

Job Fair Tips for job seekers click here.
WHY SHOULD I ATTEND?

Job fairs are an excellent way to meet, network, and interview with multiple recruiters in a short period of time.

Fairs can land you jobs, enhance your search, and improve your interviewing skills.

Millions of people have found employment after visiting a job fair.

As we know, technology makes life easier – but also less personal.

By attending a job fair, you have a chance to meet with recruiters face-to-face, have them get to know you, and make an impression.
EMPLOYER LISTING:
TBA

This is a general job fair, possible industries and job openings may include and are not limited to:
Professional, mid and entry career level positions in: Administration, Customer Service, Computing, Education, Training, Construction, Information Technology, Healthcare, Medical, Management, Engineering, Financial Services, Insurance, Business Opportunities, Hospitality, Hotel and Resorts, Attractions, Food Service, Purchasing, Professional Services, Consulting, Sales, Marketing, Manufacturing, Skill Trades, Mechanical, Healthcare,  Human Resources, Insurance, Management, Drivers, Marketing, Retail, Sales, Accounting, Financial, Advertising, Public Relations, Financial Services, Travel, Restaurant, Food Service, Government, Law Enforcement, Social Services, Non-Profit, Science, Food Service, Human Resources, Manufacturing /​ Purchasing, Professional, Creative Services, Media, Mechanical, and many more!
Stay updated regarding this event by registering as a job seeker today! For job seeker questions or one-on-one help with your job search, call our employment and resource center 407-834-4022 x221.
Source : https://www.cfec.org/job-fairs
Ready to make a Move?
Bardell Real Estate are the experts in helping you with your selling, buying or renting needs near Orlando, Florida. Make your Disney area experience a forever memorable one. Call us now to speak to a real estate agent.