West 192 Redevelopment Plan
West 192 – David Buchheit is less than a year into a daunting job — a job he said he loves and is tailor-made to what he's done for nearly all of his professional life.
As executive director of the West 192 Development Authority, his mission is to rehabilitate, revitalize, and in some cases rebuild, the nearly 15-mile corridor from Hoagland Avenue to east of U.S. Highway 27.  It won't be easy.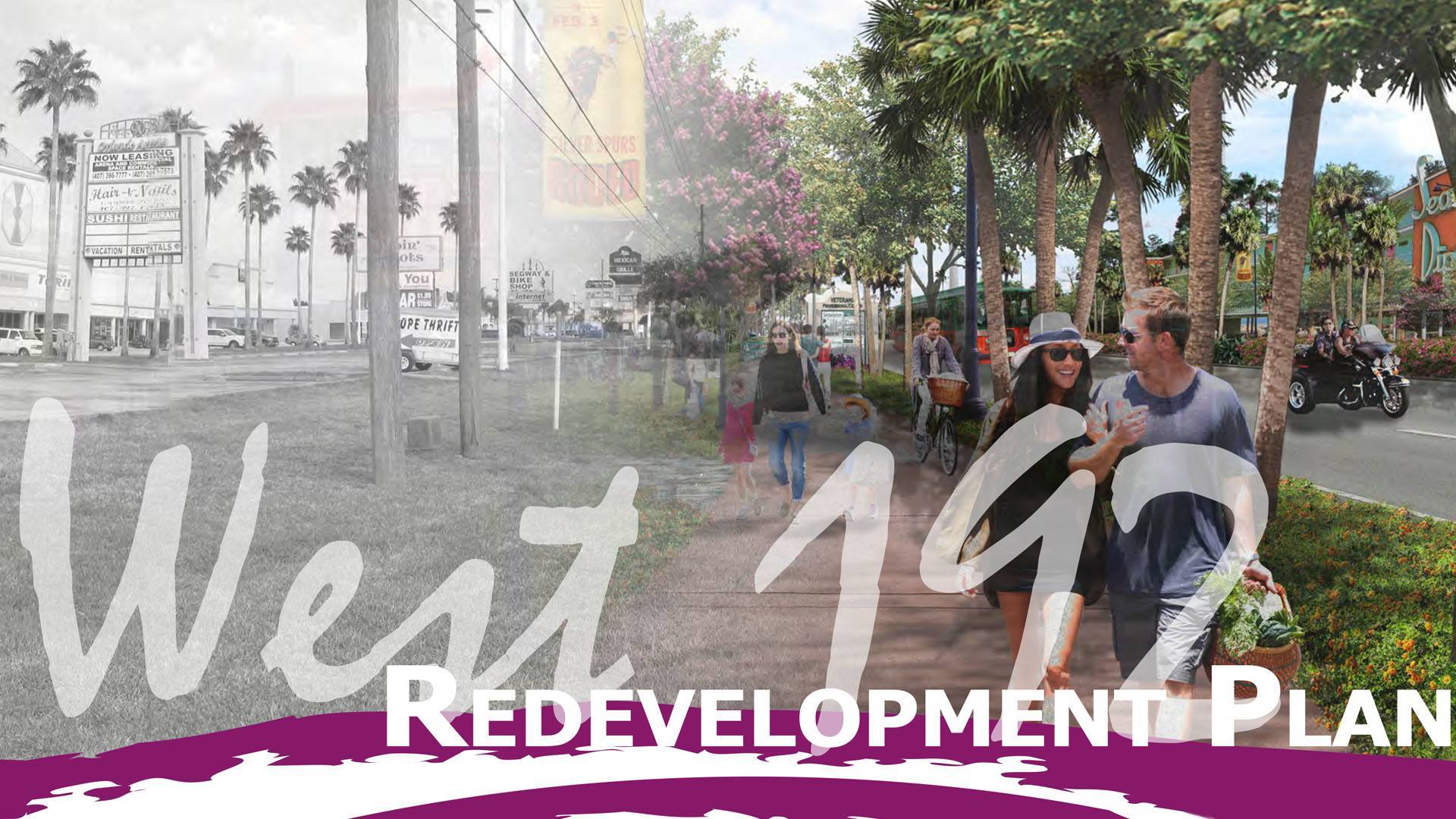 "In the '60s John F. Kennedy said, 'We go to the moon not because it is easy, but because it is hard.' West 192 is our moon shot," Buchheit said.
The corridor, once vibrant in the infancy of Disney World but later a victim of economic downtown and its own lack of progress, is full of different uses, various business owners with differing goals and under-utilized properties. Buchheit agrees with Kennedy that meshing them all together really is like rocket science.
He also knows the capability and local know-how exists to at least get into the stars, and with a little momentum, reaching the moon is possible.
"It's already a great place with tremendous activity," he said. "If you do what I do for a living, making this work … this is the Super Bowl. I have a county and partners who have bought in completely. It's an exciting time to be a part of this in Osceola County, which is already a great place with tremendous activity.
"Community leaders are committed to improving the area. The Board of Commissioners, our county manager, Experience Kissimmee, business leaders, everybody's involved. Working with the county's master plan, we're projecting a new direction."
He said he's working to involve business owners all along the corridor in every step of the process. The Authority has made $2 million in grant money available so businesses can get new roadside signs built, replacing the tall ones on skinny poles that will become out-of-code within six years. And his staff is working with other west 192 landowners to look for ways to reutilize the buildings on their land.
"We have what's called Catalyst Site Marketing, where the Development Authority will work with a land owner to get it into the right hands that can revitalize it, get it to market and help with a sale," Buchheit said.
He noted the process going on with the Roomba Inn and Suites near Old Town, and the "White Castle" on the south side of 192 east of Vineland Road.
"We're helping (the hotel) along. The plan is to tear down existing buildings, put a new hotel in the back (of the property) and help build an entertainment complex in the front," he said. "The castle sits on eight acres that could be put to a tourism use."
But because the development agency's coverage area is so long and narrow, its most logical uses change as you drive down the road. So West 192 has been broken into segments. The first segment leaving Kissimmee and heading west, from Hoagland Boulevard to Vineland Road (County Road 535) is being designed with neighborhood uses in mind. The Authority is pushing for multi-family apartments along the corridor and is working to improve the transportation network. Lynx provides bus service in both directions on west 192 through this segment and is a partner. Buchheit also said he's working on a ponds-to-park plan that would see land with just stormwater ponds opened up as multi-use green space.
The old Jungle Habitat Reserve, dormant for years, may be repurposed and reopened as an attraction, he said.
The next section, from Vineland Road to Interstate 4, was repurposed as a destination district, filled with tourist attractions, destination restaurants and lodging choices with a tourist-centric focus.
Magic Development, a $1.4 billion timeshare and retail complex that could include a 2,000-unit timeshare and retail complex and five buildings between 35-40 stories tall, is in that district. Hector Lizasuain, Buchheit's predecessor, now works for the development, but still sits on the Development Authority and was just named its co-chair.
"It's going to be huge, it will change the skyline of this area," Buchheit said.
From Interstate 4 west to where U.S. 192 curves north into Orange County and eventually meets U.S. Highway 27 is being branded as a resort area. It's a no-brainer since the highway passes right in front of Disney World. It's the reason why Reedy Creek Development District, Disney's governmental arm, has a seat on the Development Authority.
Tourism uses and vacation homes will be the emphasis there, and the big project coming to the area is the Margaritaville Resort, which will include hotel rooms, rental homes, retail, a stand-alone water park — a feature Osceola County hasn't had since Water Mania closed near Celebration in 2005 — and according to Buchheit will create jobs, a by-product of the development.
"People who are there — visiting, living, working — will need to eat and shop and cause other businesses to spring up," he said.
Buchheit said if parcels were to open up through sale and development of open space or demolition of older buildings, branded and specific retail shopping would enhance the profile of the corridor.
"We've got the dining, we've got the Wal-Mart and Target-type shopping, and we certainly have the hotel rooms," he said.
Source: Osceola News-Gazette
West 192 Redevelopment Plan to Revitalize Region