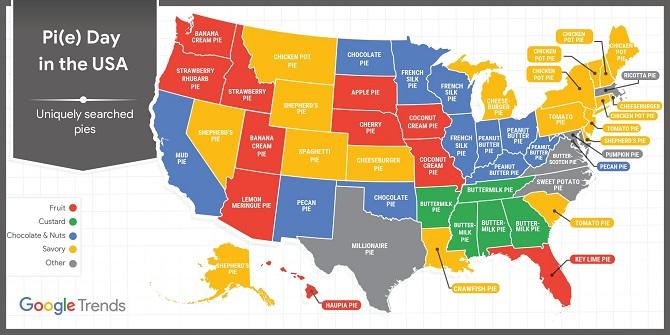 From sea to shining sea most-popular pie flavors!
There's a strong showing from savory pies, but as you might expect, sweet sweeps the nation. You're sure to find a slice you like in this virtual bakery case of popular pies—but whether your pick aligns with your home state's preference is another matter.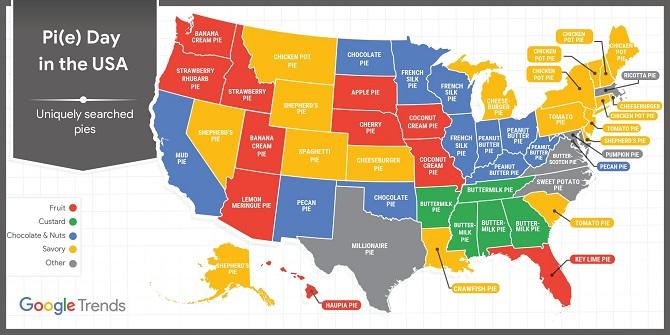 Here's the data in list form!
Alabama: Buttermilk Pie
Alaska: Shepherd's Pie
Arizona: Lemon Meringue Pie
Arkansas: Buttermilk Pie
California: Mud Pie
Colorado: Spaghetti Pie
Connecticut: Chicken Pot Pie
Delaware: Shepherd's Pie
Washington, D.C.: Pecan Pie
Florida: Key Lime Pie
Georgia: Buttermilk Pie
Hawaii: Haupia Pie
Idaho: Strawberry Pie
Illinois: French Silk Pie
Indiana: Peanut Butter Pie
Iowa: Coconut Cream Pie
Kansas: Cheeseburger Pie
Kentucky: Peanut Butter Pie
Louisiana: Crawfish Pie
Maine: Chicken Pot Pie
Maryland: Pumpkin Pie
Massachusetts: Ricotta Pie
Michigan: Cheeseburger Pie
Minnesota: French Silk Pie
Mississippi: Buttermilk Pie
Missouri: Coconut Cream Pie
Montana: Chicken Pot Pie
Nebraska: Cherry Pie
Nevada: Shepherd's Pie
New Hampshire: Chicken Pot Pie
New Jersey: Tomato Pie
New Mexico: Pecan Pie
New York: Chicken Pot Pie
North Carolina: Sweet Potato Pie
North Dakota: Chocolate Pie
Ohio: Peanut Butter Pie
Oklahoma: Chocolate Pie
Oregon: Strawberry Rhubarb Pie
Pennsylvania: Tomato Pie
Rhode Island: Cheeseburger Pie
South Carolina: Tomato Pie
South Dakota: Apple Pie
Tennessee: Buttermilk Pie
Texas: Millionaire Pie
Utah: Banana Cream Pie
Vermont: Chicken Pot Pie
Virginia: Butterscotch Pie
Washington: Banana Cream Pie
West Virginia: Peanut Butter Pie
Wisconsin: French Silk Pie
Wyoming: Shepherd's Pie