Staging Your Home for Sale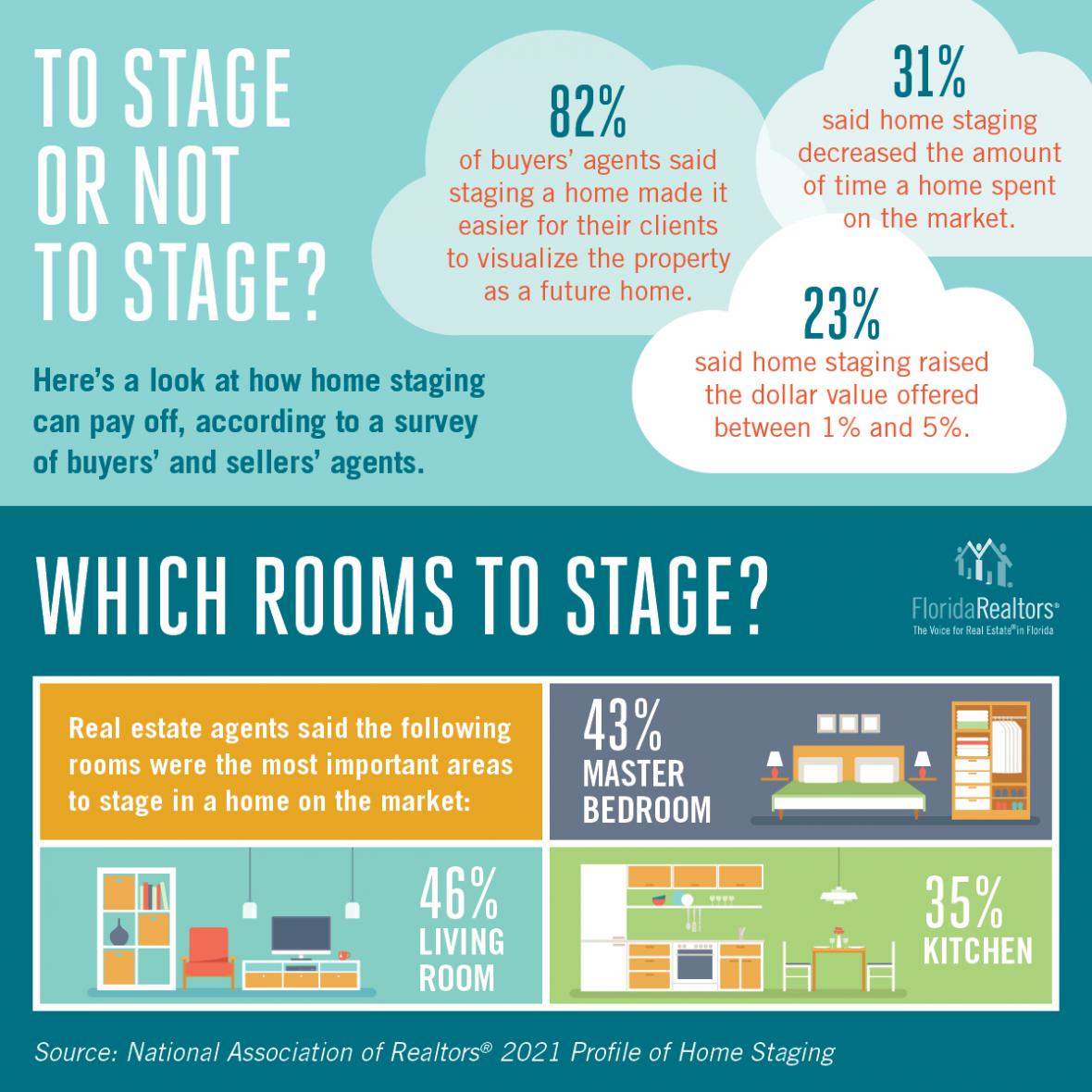 To Stage or Not to Stage?
Here's a look at how home staging can pay off, according to a survey of buyers' and sellers' agents.
82% of buyers' agents said staging a home made it easier for their clients to visualize the property as a future home.
23% said home staging raised the dollar value offered between 1% and 5%.
31% said home staging decreased the amount of time a home spent on the market.
Which rooms to stage?
Real estate agents said the following rooms were the most important areas to stage in a home on the market:
46% living room
43% master bedroom
35% kitchen
Benefits of Home Staging
Home staging benefits might seem like something only the upper class think about. Having your home set up like a model room in a department store seems unnecessary at first glance, but think why department stores bother to set up model rooms.
Step Up the Appeal
One of the benefits of staging your home is that it can make it seem much more luxurious, clean, and comfortable than it normally is. The magic of home staging tricks potential buyers into thinking their lives will be comfortable, clean, and luxurious if they buy your home.
Get Higher Offers
The importance of staging a home can go beyond looks. Homes that have been staged have an increased chance of getting offers over the asking price than those that have not been staged. Agents from the National Association of Realtors found that staging your home could boost your offers by 5%.
Lessen Time on the Market
It's likely that you aren't getting offers on your home because people are struggling to see themselves living in your home. You might need to change the layout a little bit, fix some minor damages, or clean up.
More than half of all sellers agents asked have said that staging a home can reduce your house's time spent on market.
Source: National Association of Realtors® 2021 Profile of Home Staging
Ready to make a Move?
Bardell Real Estate are the experts in helping you with your selling, buying or renting needs near Orlando, Florida. Make your Disney area experience a forever memorable one. Call us now to speak to a real estate agent.