Music among the Lakes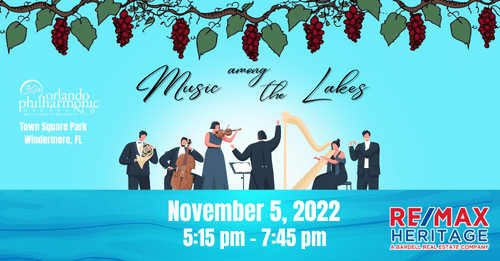 Music among the Lakes
Come join us November 5, 2022 (November 6 as a back up) for Sunset and an Evening under the stars enjoying the Orlando Philharmonic Orchestra under the baton of Mauricio Céspedes Rivero with an opening by the the Florida Symphony Youth Orchestra.  OPO will be celebrating "Broadway to Film" for their return to Windermere.  Bring your blankets, chairs, picnic baskets and sit back with your friends and neighbors for this new inaugural event.
Grounds will open around 4:00pm
With the opening program by FSYO
5:15pm – 6:00pm
followed by a short break then
Orlando Philharmonic Orchestra
6:30pm -7:45pm
Listed below are some of the arrangements they will be presenting:
The Star-Spangled Banner John Stafford Smith / Walter Damrosch
Selections from West Side Story Leonard Bernstein / Arr. by Jack Mason
The Carousel Waltz RODGERS
Selections from the Phantom of the Opera Andrew Lloyd Webber
Rodesky March J Struass
Blue Moon Rodgers/arr Wolpe Vocalist
It Don't Mean A Thing Ellington/arr Smithers Vocalist
Music from Apollo 13 James Horner
Armed Forces Salute Traditional Bob Lowden
Selections from Jurassic Park John Williams 12
Star Wars Suite, Main Title John Williams
ORCHESTRA HISTORY
Celebrating its 30th Season, the Orlando Philharmonic Orchestra is led by Music Director Eric Jacobsen and is comprised of creative musicians and artists from around the world. The Philharmonic annually presents the 11-concert Classics Series and Pops Series in Steinmetz Hall as well as its Focus Series and Symphony Storytime Series at The Plaza Live, a historic Central Florida venue. The Orlando Philharmonic Orchestra's vision is to enrich, inspire, and serve the Central Florida community through the transformative power of live music, and it presents more than 170 live concerts and impacts more than 70,000 children, youth, and families annually through its Young People's Concerts, Symphony Storytime Series, Notes in Your Neighborhood program, and free outdoor community concerts. A resident company of the Dr. Phillips Center for the Performing Arts, the Philharmonic is proud to perform in the new Steinmetz Hall, one of the finest venues for acoustic music in the country.  The Orlando Philharmonic is a Partner Organization of the National Alliance for Audition Support, an initiative to increase diversity in American Orchestras. Learn more at orlandophil.org.
For more information and for updates go to : https://windermerewineanddine.com/music-among-the-lakes-event/
Ready to make a Move?
Bardell Real Estate are the experts in helping you with your selling, buying or renting needs near Orlando, Florida. Make your Disney area experience a forever memorable one. Call us now to speak to a real estate agent.