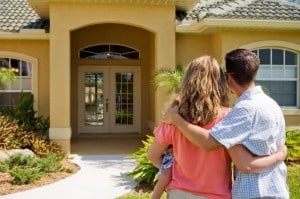 It's no secret that Florida Homes and villas are very desirable in the housing market. In a recent Case Schiller Index, the national selling prices of homes revealed a 1.2% increase in prices since July 2011. By comparrison, the selling price of homes in Florida increased 9% in the last year. This is positive news for Florida homeowners looking to sell. Despite the good news, competition is fierce and standing out among other homeowners can be a bit of a challenge. Take notice of the tips below to help improve your home's visibility and truly stand out!
Make a Video
It is important to think like a buyer before you list as a seller. A detailed video that showcases both the interior and exterior of your Florida home will interest buyers. Areas such as closets, bathrooms, halls, the garage, and the yard are often overlooked spots that potential buyers want to see. Florida home landscapes can be an excellent selling point.
Renovate Your Florida Home
Never underestimate the power of enhancing and upgrading what you have. The work does not have to be the most expensive full kitchen remodel, but it should be things that people will see, notice, and critique against the home's value. Things such as damaged base boards, worn carpet and dead shrubbery, or even a fresh coat of paint can go a long way. In fact many would consider these things to be essential renovations in today's real estate market.
Have a Weekday Open House
The typical belief that the weekend is the only time people can come to see your open house is has long changed. Many people take up weekend work to generate more money and might not be able to see your home then. But during the week, an evening open house might not be out of the question. Also, a weekday open house reduces the competition, since many people still stick to weekend showings. Best of all, an open house does not cost you anything. More frequent open houses during the week could very well bring the buyer you are looking for as opposed that that one showing on the weekend.
Lower Your Price
If your Florida home isn't producing offers or interest, a lower price may be the way to stand out. Based upon comparable homes in your area, your Realtor will help you to set your initial price. It is a good idea to begin higher than the lowest price you're willing to accept, so you have room to negotiate.
Selling your Florida home is a big decision. It is important to work with a Realtor you can trust. Let a Bardell Real Estate professional help you price your home to sell with a Consumer Market Analysis, based on comparable homes in your market today.