Buying a Second Home is a Great Idea
Buying a Second Home is a Great Idea 6 Reasons Why – There is something appealing about owning a piece of land that you can call your own. But you are not limited to just one property. When some people think about vacations, owning a second piece of land is even better. There are many reasons why people want to buy a second home, and below are just a few of them: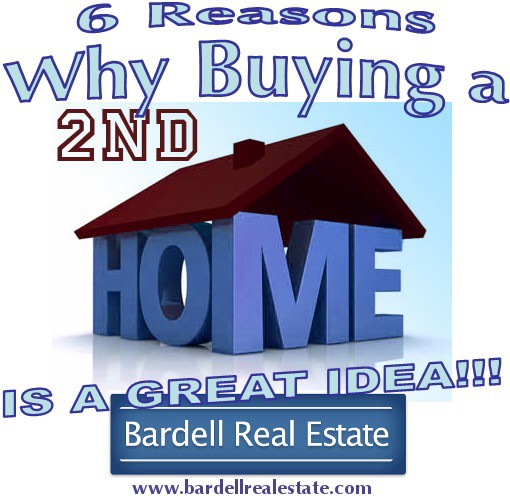 Investment purposes: While markets go up and down, in the long run, markets tend to go up. Purchasing a home in an upcoming or already idyllic area can allow you to see that property appreciate over time, allowing your investment property to increase in value. To make that investment even more worthwhile, you can also rent it out. And when the time is right, you can sell the property at a huge gain.
Retirement: You need to save a large amount of money so that you can eventually retire. But you don't have to have your savings merely in the stock market or bonds – diversification is a good thing. Buying a second home can be part of that strategy. Choose a location where you would eventually want to live; if you are not sure, vacation in different spots until you find one that meets both your needs and wants. Consider the climate, cost of living, municipal facilities, and social life. You can visit your second home before you retire to establish connections as well as relax, and you can rent it out to help pay the mortgage.
Vacation rental: Mountain homes, prime golfing location, waterfront property, national park hiking, wildlife retreat, fishing hole, or historical spot – there are many reasons why people pick their vacation spots. By buying a second home in one of these areas and renting it out, you can pay your mortgage and generate rental income from others who need a sweet escape from their daily lives.
Let the good times roll: According to the National Association of Realtors, when asked for the reasons for buying a second home, vacation was the top answer. Given the great transportation system in the United States, it doesn't take long to travel to any location you want. Whether it is your small isolated wooded retreat or a flat in a cosmopolitan city, getting away once in a while is always needed.
Family getaway: Reunions, vacations, holidays, or for no reason at all – getting family together is a great way to remain connected. For larger families or groups spread across the country, buying a second home for a family retreat can simplify that connection while allowing family members to enjoy a more affordable vacation.
Reverse it: As the saying goes, change is good. If you want to mix it up a little, consider a reverse – living in your vacation home while renting out your city home. Technology has made it easy for many of us to work remotely. Moving to a lesser populated place can mean lower costs while reducing your stress. Additionally, you can change back to your city home when you get a hankering for hustle and bustle again. Either way, you can earn a rental income while enjoying a different location. After all, a change can be as good as a rest!
Though it may seem easy peasy, owning a second home isn't without its complexities. Make sure you speak with a mortgage lender to ensure you can afford both properties, including mortgage payments, property taxes, repairs, renovations, and general upkeep. Always try out the area multiple times before buying to get a feel for the location and to scope out neighborhoods that appeal to you. If renting out your second property, you may need to find a professional rental company to help ensure your property stays in great condition. Lastly, you need to be aware of the tax implications on your finances. But if you do your homework and obtain a local real estate agent who specializes in second properties, you can have years of enjoyment right around the corner.
Source: Shamrockfinancial.com
Buying a Second Home is a Great Idea