Big Disney Plans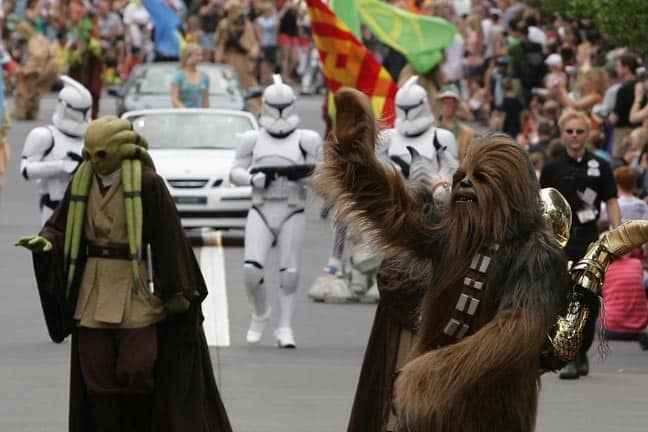 Take that, Harry Potter – in a few years.
The Walt Disney Co. announced Saturday that it will build a 14-acre Star Wars land and 11-acre Toy Story area at Disney's Hollywood Studios – the largest overhaul ever within an existing Walt Disney World theme park.  Experts say they expect it to take several years before Disney's Hollywood Studios' complicated and costly new expansion becomes a reality.
Disney declined to give further details beyond what it revealed last week.  The company said it will break ground on another Star Wars land at Disneyland in California by 2017 but gave no similar details for Orlando.  No price tag has been provided, although costs for expansion on both coasts is expected to be in the billions.
"It seems like the Hollywood Studios transformation is going to be many, many more years until you feel like you're in a complete theme park," said Bob Boyd, an analyst with Pacific Asset Management.
Disney's plans are expected to remake Hollywood Studios from what many tourists consider an afterthought into a major destination unto itself.  Star Wars in particular is considered Disney's way to strike back at Universal Orlando's wildly successful Harry Potter lands.
Industry watchers said the project could make Hollywood Studios enough of a draw to charge the same premium single-day admission as Magic Kingdom: $105 as opposed to $97 at other Disney Parks.
"Knowing what they believe the power of Star Wars is and what this is supposed to cost, I would imagine that once this is up and running, you'll see parity between admission prices for the Magic Kingdom and Star Wars, Pixar, Hollywood Land," said Jim Hill, an industry blogger and editor of JimHillMedia.com.
Disney will give the theme park a new name but has not revealed it yet.
In the short term, Hollywood Studios will be a them park in limbo, undergoing a lot of construction work.
"You've got a lot of things to move around at Hollywood Studios," Boyd said.  "you've got buildings coming down.  A lot of the old infrastructure built for the old park won't be adequate for this."
Hollywood Studios has vacant land around it, but Disney has no said whether its new lands would require expanding the park beyond its current boundaries.  The current entrance, designed for a much different attraction, probably won't suffice anymore, Niles said.
Reedy Creek, the Disney-funded government that oversees resort property, is considering possible improvements, including a road that could take some traffic off nearby Osceola Parkway.  District administrators did not give further details.
Several experts interviewed said it would likely take at least four years for Star Wars to open.
At Hollywood Studios right now, though, more things are closing than opening.  Four attractions shuttered in the past year, and bloggers predict more will follow to make room for expansion.  The 2016 "Unofficial Guide to Walt Disney World" has advised tourists not to bother with the Studios if they only have two or three days to visit.
"It's hard for us recommend spending $80-$100 on a park that has so little to offer," it says.
In the meantime, Disney will try to generate visitor interest by more quickly adding smaller Star Wars attractions.  It will introduce characters and locations from the upcoming movie in its Star Tours Ride, a "Launch Bay" preview area and a new themed fireworks show with music from the film.
Source: Orlando Sentinel