10 Tips for a Winning Offer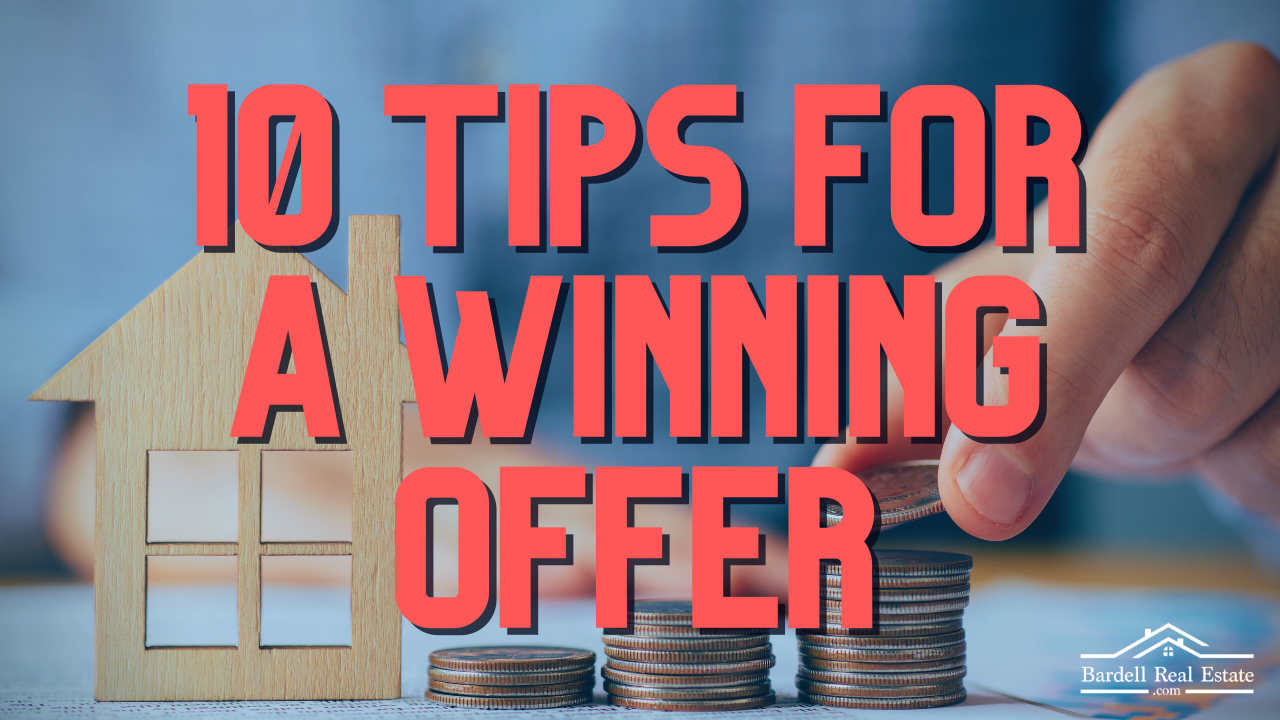 With housing inventory being at an all-time low there is a great deal of competition when it comes to buying a home. So how do you as a buyer make your offer stand out – well here are ten things to consider to increase the chances of your offer being accepted:
First, Make Your Home Search a Priority
This may sound a little strange but in this sellers market you must be proactive. Ask your Realtor to establish an automatic property search that notifies you when a home meeting your criteria is listed –  and then respond to them quickly.
Be Flexible With the Closing Date
Some sellers may be wanting to close quickly, however, some may need some extra time for relocation purposes or having a new home built. Being accommodating to the seller's schedule may help in closing the deal.
Present a Clean Offer
The fewer contingencies the better – if you can avoid making an offer with financial constraints or seller concessions great but before removing any financing contingencies make sure you fully understand the implications.
Shorten the Length of Your Inspection Period
The shorter the timeframe for an inspection period, the better for the seller of the home. Some buyers are deciding to waive the inspection period completely but again speak with your Realtor before making that decision.
Offer Above-Asking Price on the Home
If you want to secure a home in today's hot seller's market, you may have to craft your offer above-asking price. Consider homes that have sold recently and equally important homes that are under contract and likely to close in the near future – your Realtor should be able to provide this information.
Put Down a Larger Earnest Money Deposit (EMD)
It will show the seller you are a well-qualified, good-faith buyer serious about purchasing their home.
Make a Greater Down Payment
Similar to the Earnest Money Deposit, putting down a larger down-payment than required shows the seller that you are in a good financial position and are serious about going through with the purchase.
Include an Escalation Clause in Your Offer
When you add an escalation clause to your offer, you are giving a maximum price up to which you will outbid other offers. Although you may not be the only one adding an escalation clause, it will give you an advantage over buyers without one.
Pay in Cash
If you are able to make a cash offer do it. Deals subject to financing contingencies are often at the mercy of the lender's process so a cash offer is preferred especially if competing against other financed offers.
Now these are all great tips but remember every market is different and the details for every transaction are different.
Most importantly: Work with an Experienced Realtor
Our Realtors have been in this business for over 30 years here in Central Florida they are a fantastic resource.
Contact us today and let us guide you safely through the process and we wish you the best of luck finding the perfect home.
Ready to make a Move?
Bardell Real Estate are the experts in helping you with your selling, buying or renting needs near Orlando, Florida. Make your Disney area experience a forever memorable one. Call us now to speak to a real estate agent.