Learn More About Winter Garden!
Homes for Sale in Winter Garden FL
If you are considering relocating to the Winter Garden area of central Florida we hope you will find the following information helpful
With an exciting blend of tourism, commerce and residential housing and its close proximity to the Orlando attractions, Winter Garden has been a popular choice for permanent residents for many years. To learn more about Winter Garden and the surrounding Four Corners area follow the links below
The History behind Winter Garden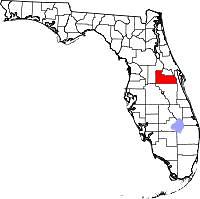 It was 1857 when Becky Roper Stafford's great-great-grandfather first glimpsed Lake Apopka. W. C. Roper was riding through the backwoods of west Orange County on horseback, seeking a place to build a home for his family waiting back in Merriwether County, Ga.
Roper bought 600 acres along the shore, between present-day Winter Garden and Oakland, and returned a year later with his wife and 10 children. The ambitious settler operated a sawmill, gristmill, sugar mill and cotton gin. Later he built a tannery for making shoes, and served as Orange County's superintendent of schools from 1873 to 1877.
Fast-forward to the 1920s, when Roper's son Frank planted the area's first orange trees, marking the humble beginnings of an industry that would sustain and define Winter Garden, which had been incorporated in 1903, for the next six decades.
It was a busy time for Winter Garden's three-story Edgewater Hotel, now a bed-and-breakfast, which opened in 1927 with a telegraph office, electric heating and fire sprinkler system. As the only hotel in the western portion of the county for nearly 30 years, the Edgewater emerged as a primary community gathering spot, a place where special events were held and business deals were sealed.
Winter Garden remained an idyllic small town throughout World War II and into the 1950s and 1960s. Far removed from Orlando, which was about to be reshaped by the advent of Disney World, the city remained self-sufficient and unpretentious. "I grew up with the scent of orange blossoms," says Stafford, whose father Bert was also a prominent local citrus grower. She remembers when Davis' Pharmacy was the place to meet friends for a vanilla Coke and when the Starlite Drive-In attracted weekend crowds of teens and families alike.
"Winter Garden was the quintessential vibrant small town," says Stafford. "We had the distinction of being the only town with two train depots because it was such a busy shipping community with fresh fruit going all over the world."
Demographics
We are compiling the latest demographic information for the Winter Garden and Four Corners areas, meanwhile you will find the following links very helpful.
Useful Links
For other useful information on Winter Garden and the surrounding area we think you will find the following sites useful.
Location and Infrastructure
Winter Garden is bordered on the south by the town of Windermere, on the east by Ocoee, on the west by LakeCounty, and on the north by Lake Apoka. Winter Garden is a city and suburb located 14 miles west of downtown Orlando in western Orange County Florida. As of 2005 the city population was 25,500. The population will continue to grow at an extremely quick rate as new housing communities are built. The Orlando metro area is predicted to grow faster than any United States metro area throughout the first quarter of the 21st century. Winter Garden is located at 28°33′37″N, 81°35′3″W (28.560328, -81.584069) According to the United States Census Bureau, the city has a total area of 31.3 km² (12.1 mi²). 31.2 km² (12.1 mi²) of it is land and 0.1 km² (0.04 mi²) of it (0.17%) is water.
Location Map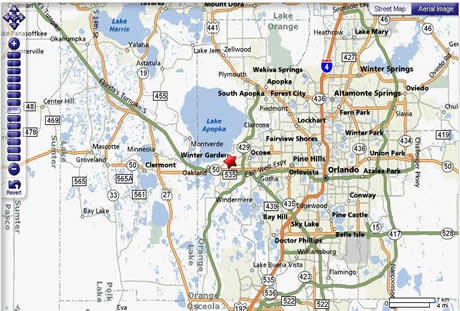 Click here to view in Google Maps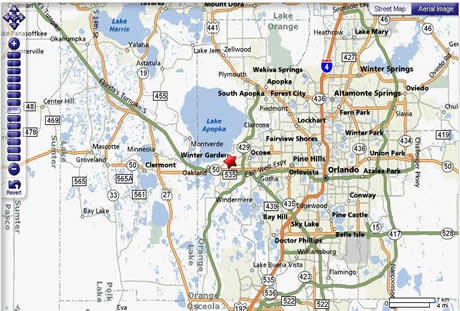 Airports nearest to Winter Garden
Orlando International Airport – (about 22 miles; Orlando, FL ID: MCO)
Orlando Sanford (about 29 miles; Orlando, FL; ID: SFB)
Lakeland Linder RGNL (about 50 miles, Lakeland FL ID: LAL)
Orando County (about 10 miles, Plymouth FL ID: x04)
Bob White Field (about 13 miles, Zellwood, FL ID: x61)
Executive (about 19 miles; Orlando, FL; ID: ORL)
Amtrak Station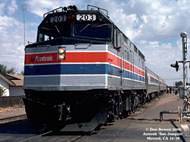 Amtrak Stations near Winter Garden Orlando – 1400 Sligh Blvd, Orlando, FL 32806 Winter Park – 150 West Morse Blvd, Winter Park, FL 32789 
For more information on Orange County check out the links below.
Winter Garden Neighborhoods
Winter Garden Real Estate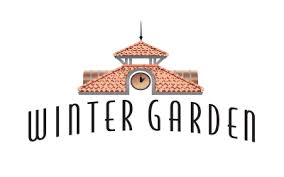 Looking for homes for sale in Winter Garden Fl? 
Winter Garden has become a desirable place to live and a local gathering place for residents within Central Florida offering a diversity of housing options. Winter Garden's proximity to Orlando and the theme parks has made it an ideal spot for growth.
Winter Garden is known for its warm charm, great schools, one of the lowest millage rates in Orange County, while enjoying a superior quality of life. Winter Garden has a thriving business community comprised mostly of small businesses, a historic downtown, one of Central Florida's premiere shopping centers, Winter Garden Village at Fowlers Grove.
Winter Garden has grown into the commercial and cultural capital of West Orange County with regional amenities such as the Garden Theatre, several Museums, a new Art Center and the Downtown Pavilion, which is home to the Winter Garden Farmers Market.
To help make finding your dream home in Winter Garden a little easier we have created a number of predefined searches to speed up the process. Click on any of the links below to view the latest information.